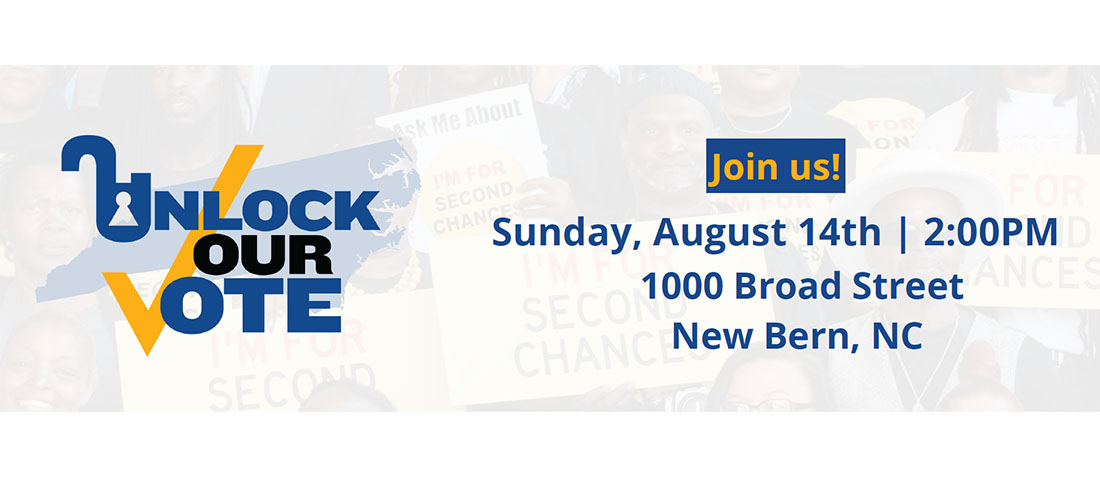 We are pleased to invite you to the "Unlock Our Vote – Freedom Summer Tour: Craven County" kickoff event on August 14th, 2022, scheduled from 2 p.m. to 6 p.m. at 1000 Broad Street (Corner of Broad and Roundtree Streets) in New Bern, North Carolina; in the renowned Five Points Community. This community education and engagement event is a joint effort between multiple individuals/citizens, organizers, community leaders, and regional and state organizations with an aim to spread the word regarding the CSI vs. Moore Litigation, where:
"Effective, July 27th, 2022, ANY individual on probation, parole, or post-release supervision is immediately eligible to register and vote. Forward Justice and our Coalition Partners will kickoff the Unlock Our Vote Freedom Summer Tour On July 27th in Raleigh, NC with events across the state beginning July 30th. Community organizers will be hosting voter information and registration drives across the state for those directly impacted by this historic voting rights expansion." 
New Bern's event is just the beginning of many more organized events around the state, spearheaded in Craven County by respected community activists Talina Massey and Jameesha Harris. We believe that your attendance would be of great benefit and look forward to partnering with you in excellence for this honorable cause. Kindly send us an email if you will be attending or register at Freedom Summer Tour: Craven County Event Registration to participate.
There will be speakers, food, music and a voter registration drive.
By Talina Massey, Crave County Co-Ambassador, Unlock Our Vote