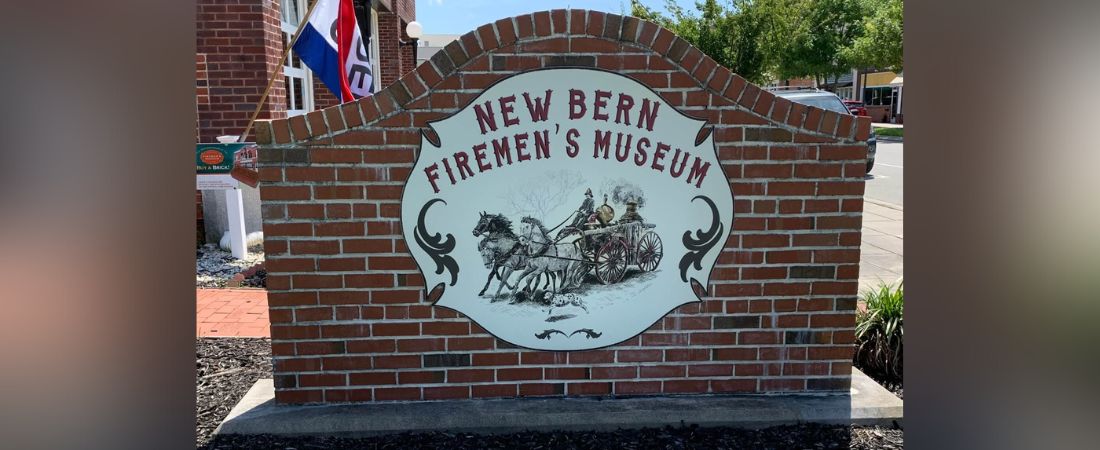 Yesterday I visited the New Bern Firemen's Museum thinking it will be a quick, 15-minute look-see. Boy was I wrong. I stayed for an hour and a half! You have the option to have a docent or use the touch pads at each station to hear the stories. I highly recommend the docents; you won't be disappointed. They are very knowledgeable and answered the many questions I asked.
Learn about the "southern" and "northern" fire companies, the story behind the two stairways and two poles, how firefighters worked together before, during, and after the Civil War. Do you know what 26 2/5 means on the side of the old fire carriage, or why fire stations have a tall tower? Find out by visiting!
The most endearing story was Fred the fire horse and his driver Jon Taylor. Fred was so smart, when he heard the different alarms, he knew to turn left or right when leaving the fire house. Fred and Jon died within a week of each other after having been a team for 25 years.
Photographs and newspapers on the wall detail other not-so-famous fires that occurred in New Bern.
Upstairs there is a room dedicated to the Great Fire of 1922, featuring "stations" with a time line of events, a 3-D model of the city, the story of the Tent City erected after the fire, and an enlarged photo of the tent city residents.
Part of the upstairs has been converted to a children's learning play area. My docent told me many families come just for the kids to play upstairs.
I'm not a writer by trade, so I cannot do justice to how much that little museum has – it's packed with artifacts, displays, friendly/knowledgeable docents, and more. Being the book collector I am, before I left, I purchased Daniel Bartholf's "History of Firefighting in New Bern, North Carolina."
The museum is open Wednesday through Saturdays from 10:00 a.m. to 3:00 p.m. and is located at 420 Broad Street.
By Cyndi Papia