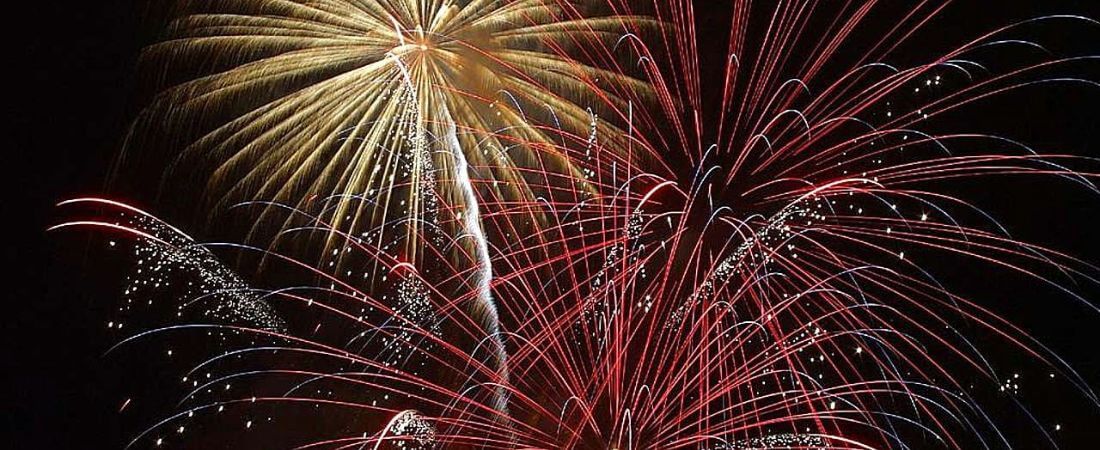 The City of New Bern announces plans for its Independence Day celebration. Residents and visitors are invited to join us at Lawson Creek Park, located at 1309 Country Club Road, beginning at 5:30 p.m. on Monday, July 4th. Festivities include live music, food, games, and, of course, fireworks at approximately 9:15 p.m. to cap off the night.
Back by popular demand, the Jan Michael Fields band takes the stage at 6:30 p.m. The band appeals to all ages with music from the 1960s through today's Top 40. The concert will take place on Thalmann Field. Food trucks, games and fun activities will be set up inside the park and will kick off at 5:30 p.m.
Handicap accessible parking will be available inside the park. Other parking inside the park will be available on a first-come, first-serve basis. Overflow parking will be available at Temple Church, located at 1500 Kingdom Way. The City will offer shuttle service to and from Temple Church and Lawson Creek Park up until 8 p.m. Shuttle service will resume after the fireworks show to return pedestrians to their cars.
Jack's Island and the boat ramp at the east end of Lawson Creek Park will be closed from 11 p.m. Sunday, July 3rd through 11 p.m. Monday, July 4th and will be used to secure the fireworks launch site. The boat launch near Thalmann Field will remain open until 6 p.m. Monday, July 4th for boaters, kayakers, and paddle boarders who wish to get on the water. Please note: if you are still on the water after 6 p.m., you will be blocked from accessing the boat ramp until the fireworks show is over.
What you CAN bring: coolers, blankets, lawn chairs and tailgate items.
What you CANNOT bring: alcohol, glass, fireworks, and pets. Service animals are permitted pursuant to city ordinance Section 6-5.
Bicyclists are asked to refrain from riding their bikes inside the park.
To manage Lawson Creek Park traffic, the US Highway 70 West exit to Country Club Road, Pembroke and Trent Woods will be closed to all traffic immediately prior to the fireworks show. No traffic will be permitted onto First Street. When the fireworks show is over, all vehicle traffic will be directed to turn left out of the park toward the US Highway 70 entrance ramps and Country Club Road into Trent Woods and Pembroke. US Highway 17 Business will remain open as an alternate entry point back into the northern parts of town.
Suggested fireworks viewing locations:
Palace Point Commons, S. Front St./Metcalf St. (new this year)
The traffic curve behind Tryon Palace will be closed from 8:30 p.m. – 9:30 p.m. on July 4th so residents and visitors can gather to watch the fireworks show.
Union Point Park, E. Front St.
Lawson Creek Park, 1309 Country Club Rd.
Note: After the fireworks show is over, all downtown traffic will be directed to exit south over the Alfred Cunningham Bridge or west on Broad Street. Traffic from Lawson Creek Park will be directed left out of the park toward US Highway 70.
Please do not park, stop or stand on highways and roadways to watch the fireworks.
The City's rain date for the fireworks is Tuesday, July 5th. This will be a fireworks-only event. Parking begins at 7 p.m. at Lawson Creek Park and Temple Church. Shuttle service will be available. The fireworks show will begin around 9:15 p.m.
If you plan to host your own fireworks show at home, please do so safely and legally:
In the state of North Carolina, fireworks are considered illegal if they become airborne, explode, and/or spin, including firecrackers, bottle rockets, roman candles, and mortars. Anyone violating state statutes governing the use of fireworks shall be guilty of a misdemeanor.
Be aware of the impact of fireworks and the stress they can cause to pets. Pets have more acute hearing than humans, and they may interpret loud, unpredictable sounds as threatening. This may cause physical and behavioral stressors including darting away from your home or yard when fireworks are set off.
Fireworks can be especially stressful for those who suffer from Post Traumatic Stress Disorder (PTSD). The unexpected, loud noises can be a trigger for some.
As a reminder, City offices will be closed on Monday, July 4th in observance of the Independence Day holiday. We will reopen on Tuesday, July 5th at 8 a.m. Trash and recycling services will run as normal.
Via City of New Bern