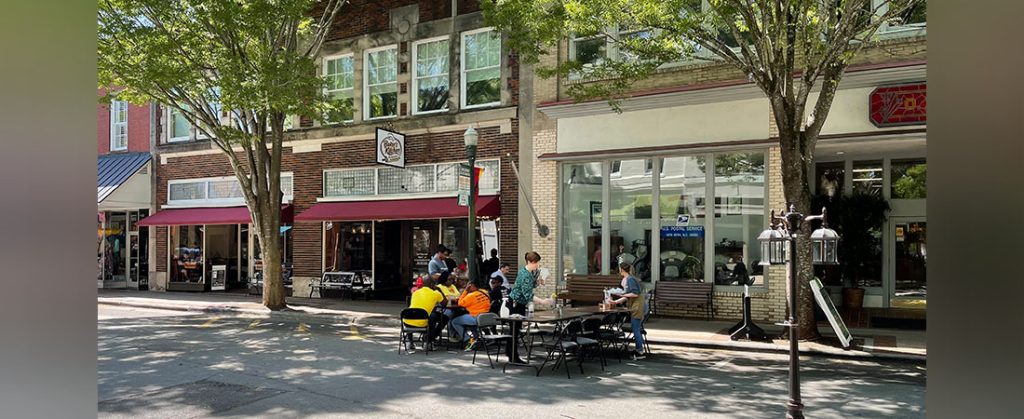 Update: Lynne Harakal, Executive Director of Swiss Bear, Inc., informed us today, May 7, 2022, the streets in Downtown New Bern that were scheduled to be closed on Mother's Day, will remain open.
On April 16, a Downtown Merchant contacted me asking if I knew why Middle Street would be closed the next day, Easter Sunday, because their business is located within that area. I didn't know, so I re-read the New Bern Board of Aldermen (BOA) meeting packet from March 22. That was the day the Board approved Swiss Bear, Inc.'s request for portions of Downtown streets to be closed.
In the past, Swiss Bear included a Petition of Signatures with the request for street closures. Just like you or I would do if we wanted to close a street in our neighborhood for a block party. Instead, Lynne Harakal, Executive Director, and Danny Batten with the Downtown Business Council sent emails to Foster Hughes, City Manager, and Kari Greene-Warren to close the street:
* Note: I spoke with four of the retailers with shops on Middle Street and they were not asked whether they wanted or didn't want the street closed. They were unaware of any vote.
They requested the 200-300 block of Middle Street, 300-400 block of Pollock Street, and the 200 block of Craven Street from Morgan's Tavern and Grill to Pollock Street be closed to vehicular traffic. Unless noted in red, all street closures are from 5:00 p.m. – 10:30 p.m. The dates of the closures are as follows:
4/17 Easter, 6:00 a.m. – 3:00 p.m.
4/22 Friday
4/29 Friday
5/6 Friday
5/8 Mother's Day, 6:00 a.m. – 3:00 p.m. (Swiss Bear decided not to close the street)
5/13 Artwalk, 5:00 p.m. – 12:00 a.m.
5/14 Antique Car Show, 12:00 a.m. – 3:59 a.m. and 3:31 p.m. – 10:30 p.m.
5/20 Friday
5/27 Friday
6/3 Friday
6/10 Artwalk
6/17 Friday
6/18 River Raft Race and Camp Weekend
6/24 Friday
7/1 Friday
7/8 Artwalk
7/15 Friday
7/16 Camp Weekend
7/22 Friday
7/29 Friday
8/5 Friday
8/12 Artwalk
8/19 Friday
8/26 Friday
9/2 Friday
9/9 Artwalk and Bike MS
9/10 Bike MS
9/16 Friday
9/23 Friday
9/30 Friday
10/14 Friday
10/21 – 10/22 Artwalk, Ghostwalk, MumFeast, 4:00 p.m. – 10:30 p.m.
10/28 Friday
10/29 Downtown Trick-or-Treat, 3:00 p.m. – 10:30 p.m.
11/11 Artwalk
11/25 Christmas Lighting, 3:00 p.m. – 10:30 p.m.
12/9 Live Window Display and Artwalk, 4:00 p.m. – 10:30 p.m.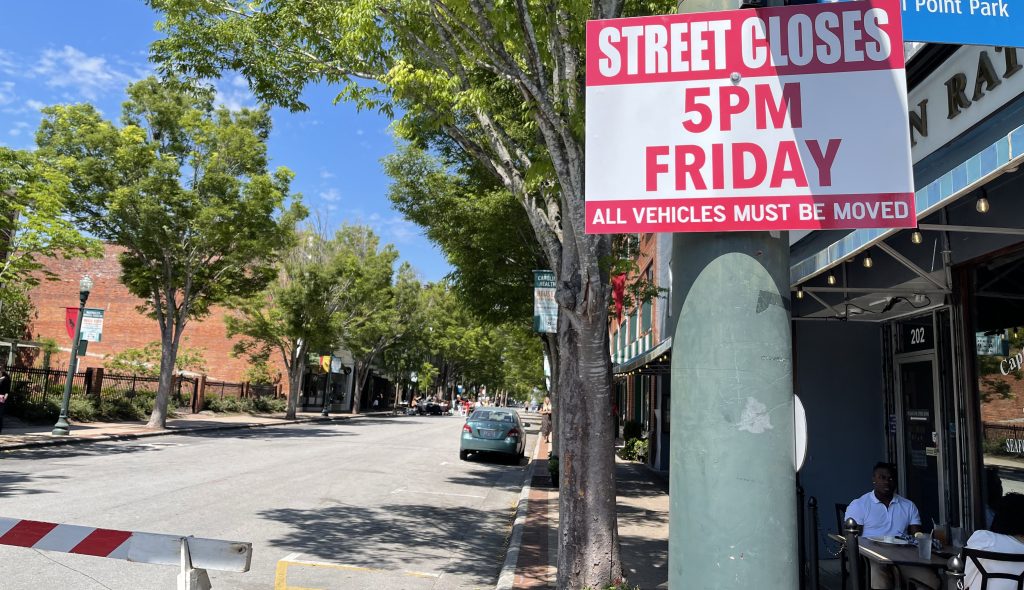 Food for thought:
– How many parking spaces are taken away for street closures?
– Why close the streets for one business? Baker's Kitchen was the only business open at 6 a.m. on Easter Sunday and it will be the only one open that early on Mother's Day.
– Why would the BOA approve street closures for the entire year instead of voting on a few months and waiting for the next Board to vote?
– How much does it cost to close the streets? (i.e., Set-up/take-down of parking barricades and chess game, police officer patrols, utilities employees, parks & recreation employees, etc.)
– Why wasn't the Petition of Signatures signed? Why aren't both residents and businesses asked?
– The photo was taken on Easter Sunday when the streets were closed between 6:00 a.m. – 3:00 p.m. Not 5:00 p.m. Will new signs be made for future closures on Saturdays and Sundays.
– During that same meeting of the street closure vote, Tom Carruthers, Senior Assistant General Counsel with the NC League of Municipalities, reviewed the laws governing ethics for elected officials and answered questions related to the new law. Mr. Carruthers said, "As of January 1, a new law came into effect… "This applies whenever the elected is a director of the nonprofit, an officer of the nonprofit, or a governing board member of the nonprofit. The elected cannot deliberate, or vote, or seek to influence anyone else and to do so, is a crime…"
Although voting for street closures isn't a contract, should Aldermen Sabrina Bengel, also owner of Baker's Kitchen and a Member on Swiss Bear Board, have recused herself? Is this a conflict of interest?
Watch Tom Carruthers' presentation here.
What are your thoughts? Send us an email.
By Wendy Card, Editor