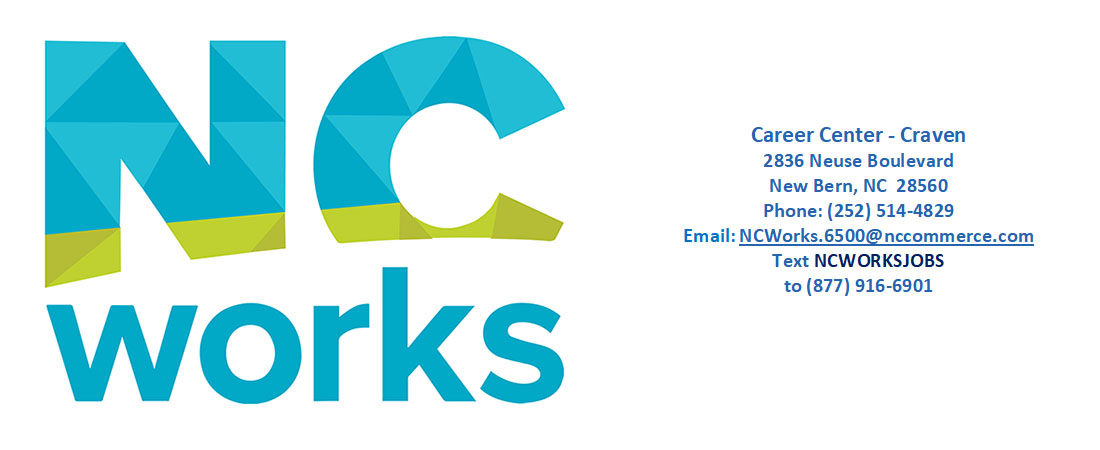 Alion Science & Technology – Drafter/Technical Writer [JO #12220452]
AMC Theatres – Crew [JO #12200701]
Blue Arbor – Paint Technician [JO #12206581]
Blue Rock Structures – Assistant Project Manager [JO #12217916]
Broad Street Take Out – Line Cooks [JO #12207679]
Cherokee Services Group – Order Filler (Cherry Point) [JO #12220381]
City of Havelock – Utilities Service Worker I [JO #12217939]
City of New Bern – Tree Trim Crew Leader [JO #12221905]
Cleaning by Kate – House Cleaner [JO #12208706]
County of Jones – Social Work Supervisor III [JO #12217867]
Craven Community College – News Reporter (Public Radio East) [JO #12222409]
Craven County Health Dept. – Practical Nurse II [JO #12220024]
East Carolina Home Care – Personal Care Assistant [JO #12220153]
Executive Personnel Group – Customer Service Rep. [JO #12219081]
Fastenal Company – Supply Chain Associate [JO #12221463]
Goodwill Industries of ENC – Employment Program Manager [JO #12220155]
Jones County Public School – Bus Drivers [JO #12217896]
Methodist Home for Children – Resident/Youth Counselor [JO #12219008]
Pamlico Correctional Institution – HVAC Mechanic [JO #12206632]
Robert's Towing & Auto Salvage – Diesel Mechanic [JO #12208575]
Shamrock Environmental – Industrial Environmental Services Tech [JO #12217878]
Tandemloc Inc. – Quality Assurance Technician Level 2 [JO #12220233]
Trinity Services Group – Food Service Supervisor [JO #12209713]
WorkSteer Staffing – Drivers (P/T) [JO #12217905]
YMCA Camp Sea Gull – Admin Asst 2 [JO #12218059]
B / S / H:
Assembler I, II, III (DISH 2nd Shift) [JO #12182620]
Automation Electrical Technician (DISH 2nd & 3rd Shift)  [JO #12217973]
Clamp Truck Operator (CDC) [JO #12217976]
Distribution Specialist II [JO# 12217982]
Machine Operator (Cooking 2nd Shift)  [JO# 12182630]
Process Technician Injection Molding  [JO# 12217967]
Quality Engineer II [JO# 12216622)
Supply Chain Engineer [JO #12217997]
Tool/Die Maker (Cooking 2nd Shift)  [JO# 12182604]
For more details/how to apply:
• Visit BSH Website: https://www.bsh-group.com/us/career & select New Bern Factory View Jobs; or
• Visit www.ncworks.gov & search by job order #
Pamlico Community College:
Computer Information Technology  Instructor (JO #12223115)
Computer Technician (JO #12220265)
Grant Writing Instructor (JO #12223314)
Natural Hair Care Instructor (JO #12223313)
For more details/how to apply:
• Visit https://www.pamlicocc.edu/about-employment.php;
• Scan QR Code; or visit www.ncworks.gov & input Job Order
###
For more information, visit Career Center – Craven, 2836 Neuse Blvd., New Bern, NC, call 252-514-4828, send an email, or text NCWORKSJOBS to 877-916-6901.
Auxiliary aids and services are available upon request for individuals with disabilities. Committed equal opportunity employer/program.
By Reeshema Walker, Center Manager, NCWorks Career Center