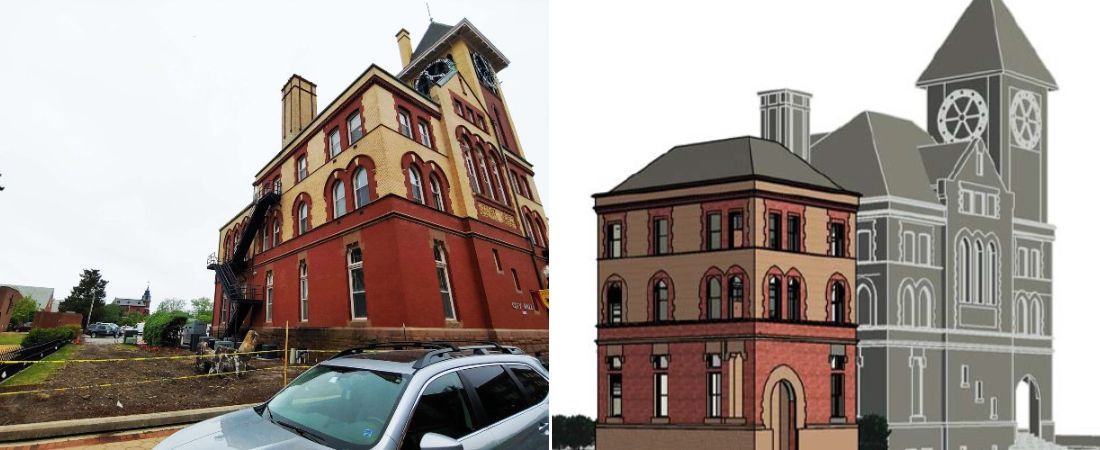 The City of New Bern will host a groundbreaking ceremony on Tuesday, May 10, at 5:45 p.m. for its new elevator project at City Hall, located at 300 Pollock Street. The site, on the west side of the building, has already been partially cleared.
MBF Architects will maintain oversight of the project and Daniels & Daniels Construction will execute the project. Daniels & Daniels began mobilizing in the parking lot of City Hall last week. Work began in earnest this morning with the removal of the concrete supports for the three flagpoles that formerly stood on the site.  The poles, bust of Christopher de Graffenried (the founder of New Bern), the memorial plaque to James Davis (who established the first printing press in North Carolina), and a landscaping bed had to be removed prior to construction. All three will find new homes in front of City Hall and on the greenspace along Craven Street.  For now, they are in storage for safe keeping while construction is underway.
The new annex to City Hall will feature an elevator and accessible restrooms. The design chosen was one of three options presented by MBF Architects. The exterior of the annex will feature a similar architecture to City Hall, which was built in the late 1890s. The elevator's entrance will face Pollock Street and provide access to the first and second floors of City Hall, including the historic courtroom where quasi-judicial and governmental board meetings and special events are held.
The Board of Aldermen approved funding for the project in October 2020, and soon after the City opened bidding for design and engineering services. The cost of the project is $3.9 million dollars. Construction is expected to last approximately one year.
By Colleen Roberts, Public Information Officer