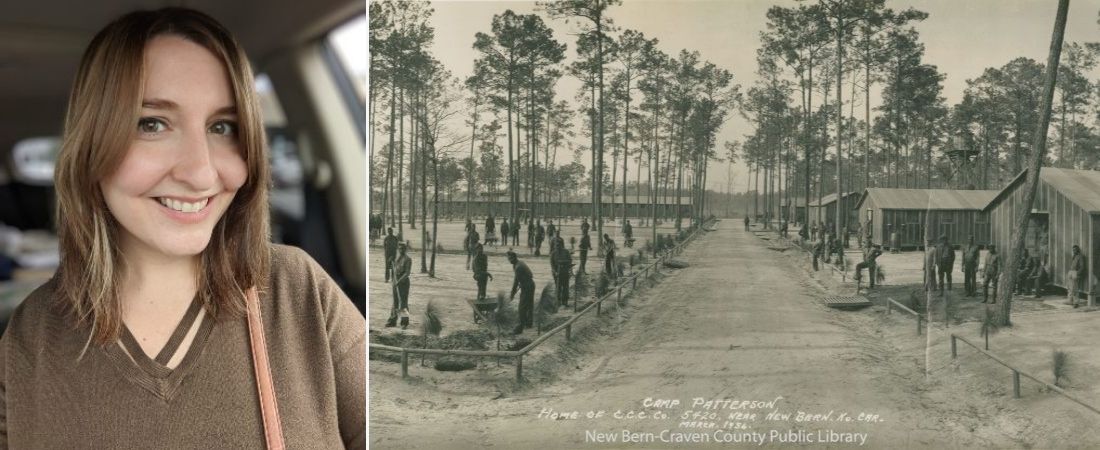 Do you know the CCC? It was an important program for many of our grandparents! During the Great Depression, the Civilian Conservation Corps was started as part of Franklin D. Roosevelt's New Deal. It began as a means to provide educational, recreational and job-training opportunities for young men ages 17-23. Each man was paid $25 per month and $20 was sent home to their family. On January 5, 1935, Company number 5420-C was officially named Camp Patterson and was one of two companies serving in the Croatan National Forest.
On May 25 archeologist Nichole Wagner will present The Forgotten History of Camp Patterson at the New Bern Historical Society Lunch & Learn at 11:30 a.m. at Carolina Colours Pavilion at 3300 Waterscape Way.
Wagner explains "Camp Patterson was inhabited by three separate companies, including Company 5420, one of the eleven African American Companies in NC. Camp Patterson went on to become a prolific CCC Camp in the state, ranking highly with the US Forest Headquarters due to its progress and efficiency. The camp had a workshop, library, recreational and sports teams as well as producing a camp newsletter. There were men from New Bern and the surrounding area who were employed at this camp and their service here has largely been forgotten."
Nichole Wagner is District Archaeologist for the Croatan National Forest and Uwharrie National Forest. NC. She is a native of Oak Harbor Ohio and moved to North Carolina to pursue a degree in archaeology. She graduated from Appalachian State University in 2015 with a Bachelor's in Anthropology, a minor in Geography, and a certificate in G.I.S. Nichole spent several years as an archaeologist in Cultural Resource Management along the southeast, traveling to perform excavations in Georgia, North Carolina, Cherokee Reservation, Ohio, Virginia, West Virginia, and Maryland. Nichole became the Zone Archaeologist for the Uwharrie and Croatan National for the  USDA Forest Service in 2019. Extensive work in North Carolina has fostered a love for the area from the mountains to the sea, and everything in between.
Cost for this lunch & learn is $22 for Historical Society members, $26 for nonmembers. Reservations may be made at www.NewBernHistorical.org or at the Society office at 511 Broad St. or by calling 252-638-8558. Prepaid reservations are required. Paper tickets are not issued for this program. Simply check in at Carolina Colours Pavilion with your confirmation.
Submitted by Kathy Morrison on behalf of Mickey Miller, Executive Director