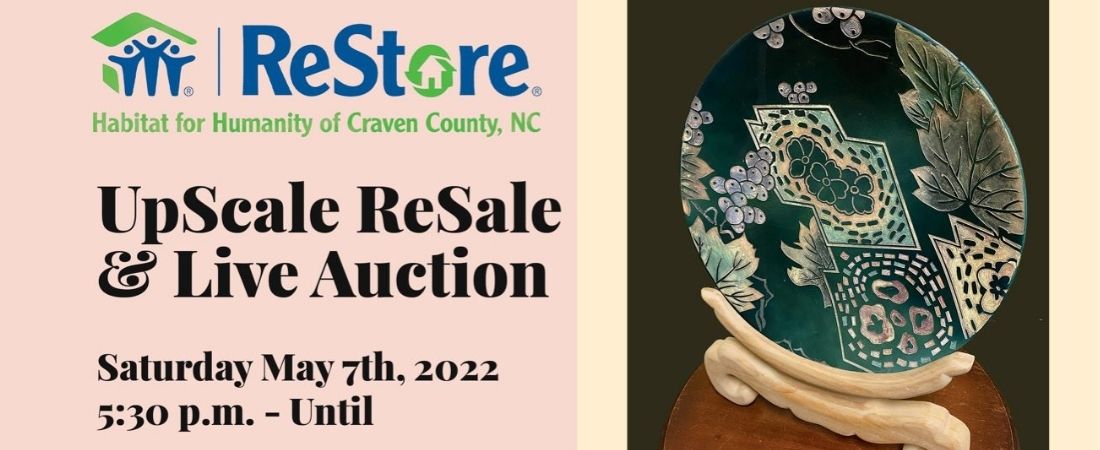 On Saturday evening, May 7th, the Habitat for Humanity ReStore will host their first "UpScale ReSale & Live Auction" at the Elks Club on Pinetree Drive in New Bern from 5:30 p.m. to whenever the fun runs out! The event will feature Upscale items ready for ReSale, a Live Auction, and a Raffle, with hearty refreshments, a cash bar, and serenades by local vocalist Alisa Mike.
"Our Auction Committee has been collecting interesting pieces and special Live Auction items for months," said Evelyn Richards, ReStore Manager. "The room will be filled with nothing you actually need, but all sorts of unique items you will definitely want to bring home." Many of the antique or distinctive pieces the ReStore receives as donations for resale to benefit Habitat for Humanity's mission have a higher value and are worthy of more attention than the regular store inventory offered at the retail store on Pollock Street.
There will be the occasional new item amongst the many gently used treasurers. Available for the UpScale ReSale will be an assortment Art pieces (classic, contemporary, and Asian), furniture (antique, mid-century modern, and vintage), a show-stopper cowboy hat, collectible John Deere Coin Banks, a hand-carved Medieval Chess Set, and so much more. However, some pieces will attract special attention, especially since like all the other items, they will be priced at much lower amounts than their stated value. For instance:
Gas Fire Pit (New) – value/$270-$390
Thomas Kinkaid Lithograph of Cobblestone Lane II, professionally framed with a Certificate of Authenticity, #356 of 495 A/P– value/$1370-$2895
Whimsical & Decorative Metal Bird Cage – value/$145
The Live Auction will add another layer of excitement to the evening's festivities by encouraging bids on such items as:
Antique Serpentine Oxbow Secretary Chest – value/$325-$1125
Mid-Century Modern Kidney-Shaped Coffee Table of Walnut & Glass – value/$800-$2400
Condo Stay at Walt Disney Saratoga Springs Resort & Spa – 3-day stay for five (airfare & tickets to Disney not included) – donated by Travel by Debbie – value/$2,500
One Year Membership – donated by Sound Fitness – value/$450
A Night in New Bern – donated by Zaytoun-Raines – value/$500
One Night at the Jarvis – donated by Jarvis 220 – value/$220
Personal Pastry Class for Two – donated by Mayte Sweets – value/$300
Local businesses have shown their support by offering Gift Baskets, or items we have grouped into a number of themed baskets. In addition, for $20, guests will be able to purchase one of just one hundred raffle tickets sold for the "Raffle-luscious" jar filled with over $200 of gift cards to area restaurant and food-related businesses. All this in addition to the heavy hors d'oeuvres, cash bar, and music by Alisa Mike to keep everyone comfortable and happy during the evening.
The Auction Committee is pleased to recognize the Sponsorship of Robinson & Stith Insurance, as well as the businesses mentioned above for just some of the Live Auction prizes. In addition, we want to express our appreciation to Galley Stores, Peacock's Plume, New Bern Civic Theatre, New Bern Farm & Garden, Beary the Hatchet, Carolina Creations, Custom Marine, Envee Spa, NC History Center, and Mike's Jewelers. A complete list of all our wonderful and generous area businesses who are supporting this event will be printed in the event program.
Habitat for Humanity of Craven County established the ReStore over 20 years ago to generate the sustainable revenue needed to support the operating expenses of the affiliate, allowing dollars raised through donations to be directed to building affordable homes with eligible families in Craven County. In addition, the ReStore provides gently used furniture, household items, appliances, and much more at reduced prices to a cross-section of customers in our community while also keeping tons of still usable items out of the landfill. Proceeds from this special Auction fundraising event will allow Habitat for Humanity to address the critical need for affordable housing and home repairs in our community and to build a world "where everyone has a decent place to live."
The Habitat for Humanity ReStore is located at 930 Pollock Street and is open on Tuesdays from 10:00 a.m. to 5:00 p.m., and Wednesdays through Saturdays from 9:00 a.m. to 5:00 p.m. For information on the UpScale ReSale & Live Auction event, of anyone interested in donating gently used items for the ReStore, please contact Evelyn Richards, ReStore Manager Richards at 252-633-5512 or email for further information. Free pick-up services can be scheduled for larger items.
By Deedra Durocher