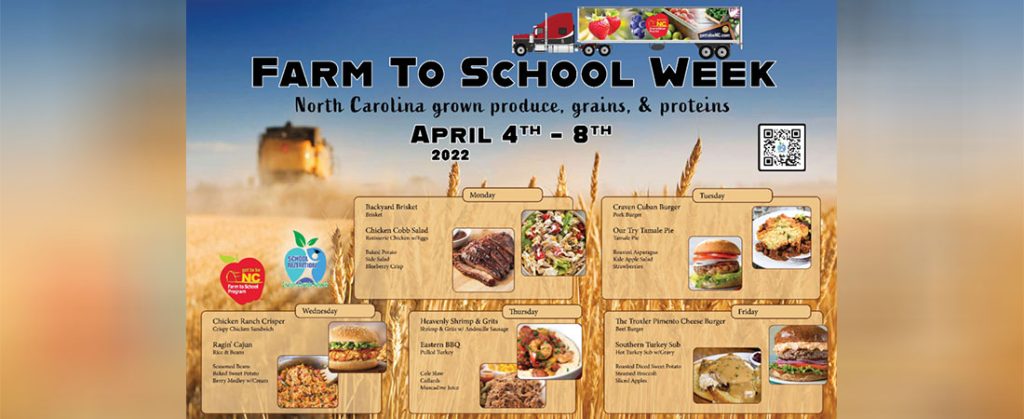 Craven County Schools celebrates North Carolina locally grown produce and produce by creating the second annual farm-to-table event. This special week was conceived by the School Nutrition Department and is being conducted in collaboration with the Career and Technical Education Department as a way to showcase the innovative strategies being utilized in both areas. The Farm-To-Table activities were developed in alignment with our system's vision, in part to help spark innovation in our students and "lead in community engagement."
The Craven County Schools Farm-to-Table events will occur the week of April 4 – 8th with a special menu utilizing local produce and proteins from our farmers including beef from McCoy Cattle Farms in Cove City and pork from Otter Farms in New Bern. Each school will have the opportunity to enjoy this delicious menu for the week.
There are many great activities planned for the week. To kick off the event on Monday, April 4th there will be some very special guests in attendance NC Commissioner of Agriculture, Steve Troxler, as well as Representative Steve Tyson – NC State Representative District 3, Senator Norman Sanderson – NC State Senator District 2, and Dr. Lynn Harvey – NCDPI School Nutrition Division & Operations Director.
The activities for the week include:
Monday April 4th at 10:30 a.m. at WJ Gurganus Elementary School (WJG)
Official Farm to School Cheer Competition – Middle and High Schools
Several schools will develop a cheer about Farm to School Week. Students will perform the cheer at WJG on Monday April 4th, at 11:00 a.m. in front of a panel of judges and the students from WJG. The winning school will receive $200 sponsored by NC Sweet Potato Commission.
NC Commissioner of Agriculture – Steve Troxler
Read sweet potato book to students at WJG – 11:00 a.m.
Visit Havelock High School FFA Chapter – 11:30 a.m. – noon
Luncheon with; Steve Tyson NC House Representative, members of CCS Board of Education; Farmers and other invited guests. 12:15 – 1:15 p.m. (WJG)
Round table with parent focus group (Topic: Supply chain disruption and how it is affecting families in Craven County) – 1:30 p.m. (WJG)
Wednesday April 6th 9:30 a.m. – 11:30 a.m. Farmer's Expo
The following companies will be at WJ Gurgnaus Elementary to showcase all aspects of farming with students:
R&H Produce
Otter Creek Acres
Cow Milking Simulator
Devil Dog Drones
Craven-Pamlico Beekeepers
Lovay Singleton – Seeds & Plants
North Carolina Cooperative Extension – Chickens
President NC Farm Bureau Shawn Harding will be visiting WJG and will be in attendance for a special luncheon. While on the school campus he will participate in the following:
Visit with farmers at Farmers Expo – 10:00 a.m. – 11:30 a.m.
Luncheon with farmers, Mr. Jason Jones, Craven County Commissioner and other invited guests – 11:45 a.m. – 12:45 p.m.
Meet with FFA Students and Staff from Havelock High School – 1:00 p.m.
Thursday, April 7th 9:30am – 11:30am (WJG) Culinary Competition
All of the high schools will be competing in the Best Use of Farm to School Ingredients. A total of 14 teams will compete for:
Best Entrée
Best Side Dish
Best Sweet Potato Entrée or Side Dish
Best Dairy-based Entrée or Side Dish
Prize Money: $250 per category
Sponsors: Dairy Alliance, Egg Association, NC Dairy Producers & NC Sweet Potato Commission
Friday, April 8th WJ Gurganus Elementary Art Competition
Best Farm to School Theme Door Art
Each classroom at the hosting school to design a door representing local farming
Sponsor specific farming idea with contest rules specific to a theme.
Alternatively, doors to be all inclusive of farming based on the vision of the students.
By Jennifer Wagner, Director of Public Relations