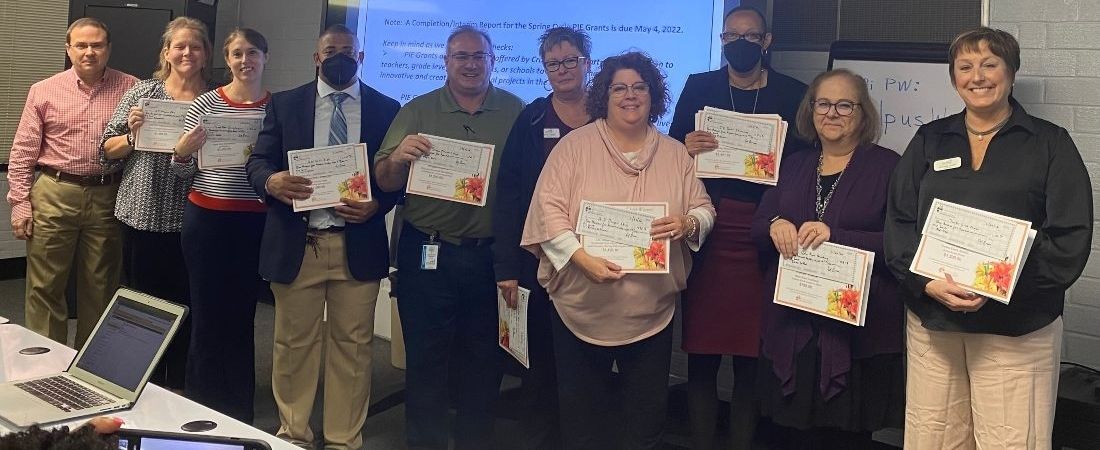 Due to the incredible generosity of the Craven County community, Craven County Partners in Education (PIE) was able to award $20,402 for the Spring Cycle PIE Grants, bringing the total PIE Grants awarded for the 2021-22 school year to $36,000.
Partners in Education's goal is to enhance the learning environment in our public schools through PIE Grants. This is PIE's 32nd year offering PIE grants that fund activities and materials requested by those closest to the educational process — our teachers. Craven County Schools teachers and principals are encouraged to submit grant proposals to PIE in two grant cycles, fall and spring, for creative and innovative projects in their classrooms and schools.
The winners of the Spring Cycle PIE Grants are:
Graphically Good: Generating Interest and Promoting Literacy With Graphic Novels – Kristy Williamson, A.H. Bangert Elementary, $1,498.16
Mind your OWN BUSINESS!!!, Keeping things Personal – Rita Brown and Laura Geilhard, Havelock High, $1,459.99
Building a Better Robot – Ron Brewer, West Craven High, $1,500.00
JUMP2MATH- Action Based Math – Megan Davis, Brinson Memorial Elementary, $1,500.00
Curtain Up! New Year, New Performances! – Luana Palimetakis, W.J. Gurganus Elementary, $1,489.28
We are ROOTING for you! "Make New Plants and Keep the Old" – Rita Brown, Havelock High, New Bern High, and West Craven High, $1,060.01
Let's Make Room for Our Desk Pets! – Rodnesha Minor, J. T. Barber Elementary, $300.70
3D Thinkers – Casondra Uvalle, Trent Park Elementary, $1,483.25
Turn the Page! – David Roberson, J. T. Barber Elementary, $1,421.91
Making My Instrument Sing! – Hayes Dunlevy, West Craven High, $1,450.73
Actions Speak Louder in Mics! – Jaime Gibbs, Oaks Road Academy, $788.98
Transitioning Entrepreneurs – Naomi C. Wilson, West Craven High, $1,499.99
Home Sweet Home! – Blair Dyal, Tucker Creek Middle, $1,500.00
Sit Down and Stop the Spread! – David Roberson and Rodnesha Minor, J.T. Barber Elementary, $829.20
Can you hear me now?, David Roberson, Rodnesha Minor, and Crystal Johnson, J. T. Barber Elementary, $1,496.33
Diversity Through Chapter Books – Micki Warren, Craven Virtual Academy, $1,123.20
To learn more about PIE grants and programs, and how to be part a PIE Partner, contact Darlene Brown, Executive Director, Craven County Partners In Education, at 514-6321 or visit cravenpartners.com.
By Darlene Brown, Executive Director, Craven County Partners in Education