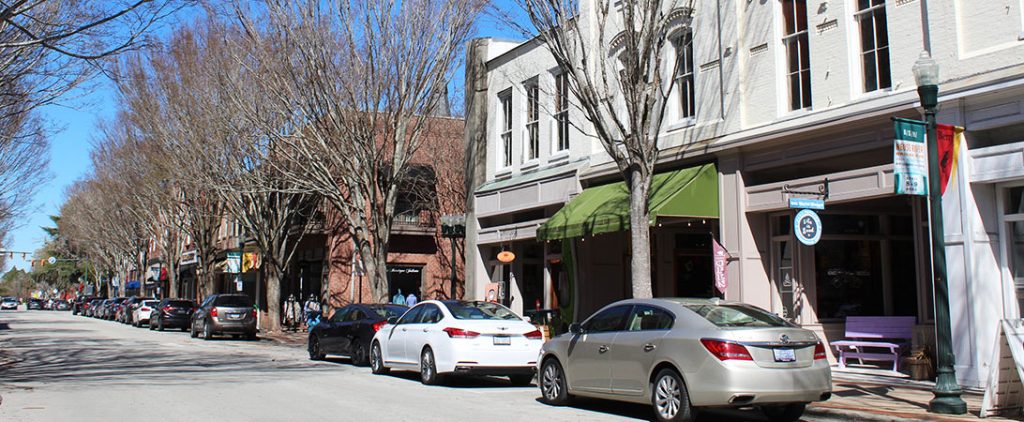 Since the following information about the creation of a social district was posted on Swiss Bear's website and on social media sites, my email inbox is overflowing with questions on how it will impact New Bern's historic Downtown and Five Points retailers, bars, and restaurants?
I don't know the answers, so I am posting the information from an Internet search and what is on the downtownnewbern.org, followed by questions and concerns from our audience in hopes those who do have the answers will respond.
A social district is a specific area in which alcoholic beverages are allowed to be carried in open containers on the street.
A social district should make it easier for restaurants and bars to take advantage of public outdoor spaces for customers to social distance and drink from open containers. Common areas must be marked clearly with signs and established hours of operation.
House Bill 890 was passed on September 10, 2021 to allow social districts in North Carolina. If one were implemented in New Bern, it would allow restaurants and bars located in a social district to sell alcoholic beverages within the social districts.
Swiss Bear, Inc., New Bern Area Chamber of Commerce, Craven County Tourism, and the Tourism Development Authority, in cooperation with the Downtown Business Council and other local businesses and the City of New Bern, are in the process of creating a plan for a social district in Downtown New Bern and Five Points. If passed by the New Bern Board of Aldermen, it would allow restaurants and bars to sell alcoholic beverages to patrons to take with them in "to go cups" to drink and walk within the social district.
Ultimately, a proposal will be made to the New Bern Board of Aldermen asking them to approve a social district to increase and expand the economic vitality of our Downtown and Five Points for residents, property owners, business owners, and visitors.
The version of the service district bill approved by the state government should make it easier for restaurants and bars to take advantage of public outdoor spaces for customers to social distance and drink from open containers. Common areas must be marked clearly with signs and established hours of operation.
Although this is seen as a great way to attract people downtown to restaurants, bars, and retail shops, there appears to be a real concern by the community-at-large and downtown retail owners and residents, which I base on the following comments and questions I have received and continue to receive:
Currently all we see is new bar/restaurant openings as they are attracting lots of people, so more are opening every day. There are at least 13 restaurants and bars downtown, and more coming with the Elks renovation, a new Italian restaurant, and proposed Japanese restaurant and the renovation of the Harvey Mansion.
Although it is being promoted that it will increase foot traffic for retailers as well as restaurants and bars, few, if any, true retailers are on the committee that was organized to explore establishing a social district a year ago.
With few retailers on the committee, they have no real voice in the decision.
As a retailer, "I quit going to the DBC meetings. It is a waste of time. We are outnumbered by restaurants and bar owners and they overrule our concerns and approve what is best for them, street closings, etc."
As a retailer, some of the retailers are afraid to voice their opinions in fear of being criticized, myself included.
They are saying it increases foot traffic … people wandering around waiting for seating aren't interested in shopping/buying, they are just killing time, so how does that increase my sales?
Have they obtained stats from retailers in existing social districts to see if they actually benefited with more sales too?
Putting a sign or sticker on the door allows people in my store with a drink so if they actually do want to try on any of my clothes, where can they put their cup, or do we have to find a way to accommodate them?
If we don't put a sticker on the door, it will come across as we are an unfriendly store.
If it is about socializing, there are already many restaurants and bars that have tables and chairs outside where people can sit and enjoy a drink and engage with street traffic.
Does the New Bern Police Department support this? If so, how will they increase the number of officers to police and enforce: cups re-filled in a person's own bottle or control transfers of alcohol to minors?
What is the position of the downtown churches regarding social districts?
How is it going to help downtown residents? Seems like just the opposite, more noise and more trash on the streets.
Why is the Beermuda District on Pollock Street being included if this is also about enhancing retail traffic? There are no retail shops in that area.
If this is really about increasing business for restaurants and bars, they should just be honest about it.
Who's paying for 20 trash cans that cost $1,200 per trash can?
If they are serious about helping retailers, why not increase parking limits? The two-hour parking keeps people from coming/staying downtown and only helps bars and restaurants since the 2-hour limit in only enforced during the day and bars and restaurant patrons don't have to worry about it.
If they truly are interested in increasing business and foot traffic downtown, why don't they spend a year figuring out how to help the small retail businesses who are just hanging on and didn't have carry-out options during the pandemic?
New Bern is a quaint, small city that should not be compared to large cities.
Who is on the social district committee? Are meeting minutes available for the public?
Have any local environmental organizations been involved in the decision of what the disposable cups are made of? Has the Neuse Riverkeeper been consulted related to additional trash ending up in our waterways?
NBN hopes these questions and many more can be answered before a social district is put in place.
NBN is not taking a position on this but is publishing the questions/comments as the people submitting them are doing it in earnest and hoping for honest answers.
If it really is an economic development tool that will help all small businesses, not just bars and restaurants, when it is put on the Board of Aldermen agenda, the decision will be based on good facts and unbiased information.
Let us hear from you! Send us an email.
By Wendy Card, Editor-In-Chief