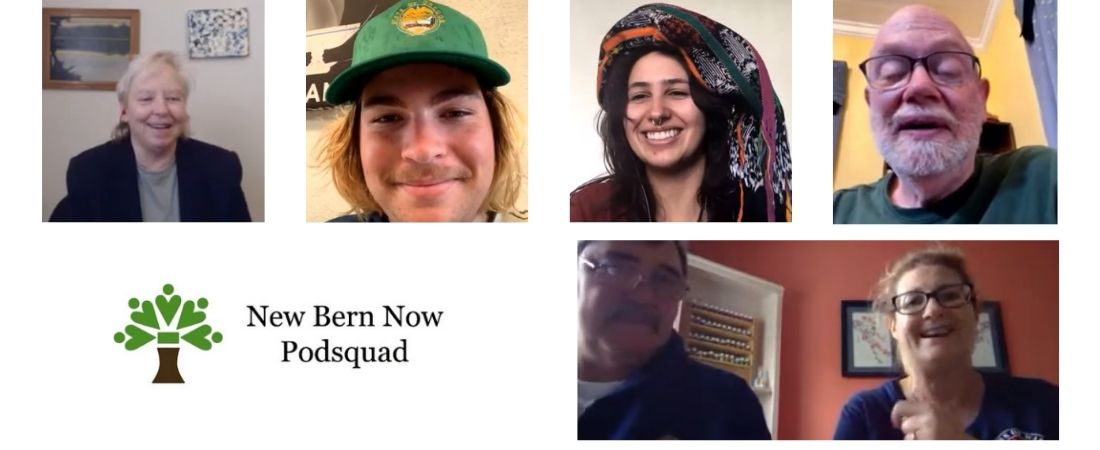 The Podsquad (Jarett Huston, Singer Weirdy Lee with Wicked Junction and Wendy Card) had a great time learning about the people, places, and happenings in New Bern & surrounding areas. Special guests: Author Sam Love of Earth Resonance and Kathy O'Brien of Paws of War Eastern North Carolina.
Watch:

Listen:
Show Notes:
00:23 – Catching up with The Podsquad
07:48 – Nautical Star Coffee
11:53 – Author Sam Love of Earth Resonance
24:17 – Big Sam Lewis
24:39 – Nexus Poets
25:07 – Coastal Coalition for Substance Abuse Prevention
26:51 – Jackie and Bill O'Brien of Paws of War Eastern North Carolina
46:00 – Little Talks: A Lecture by Jill Eberle on Portraiture
46:37 – Flea Market Food Truck Fundraisers Series for Colonial Capital Human Society
46:50 – Martin Marietta Park Grand Opening Ceremony
46:56 – Household Hazard Waste Collection Event
48:19 – Pull for Hope Fire Truck Pull Competition
49:05 – Battlefield Adventure Day
50:42 – The Bears Rock & Roll band
51:51 – Winterfeast: Spring Edition at Tryon Palace
51:57 – Colonial Capital Drag Show Fundraiser
52:23 – 2nd Annual Prom Boutique
52:30 – Molasses Creek Band concert
53:23 – ENC Regional Church and Community Resiliency Collaborative
54:26 – 5th Anniversary of the National Vietnam War Veterans Day – Floyd H. Austin, Jr., Chapter 886
55:17 – Lunch & Learn: How to Write a Small Business Plan
55:37 – North Carolina Baroque Orchestra
56:01 – International Films at Craven Community College
57:21 – Twin Rivers Artists Association and Craven Community College Judged Exhibition
57:42 – "Shoplifters" (2018) International Film
58:27 – Home & Outdoor Expo and Artisan Market
59:09 – New Bern Music Calendar
The video and audio will be uploaded to NewBernNow.com, Youtube, iTunes, Libsyn, and wherever you listen to your podcasts.
You can also listen to the show on New Bern's News Talk Radio Station WNOS 103.9FM by tuning in every Wednesday at 8 a.m. and 5 p.m.
Watch live on New Bern Now's YouTube Channel and NewBernNowNC's Facebook page.
Let us know if you'd like to be a guest or if you have any questions by sending us an email.
By Wendy Card