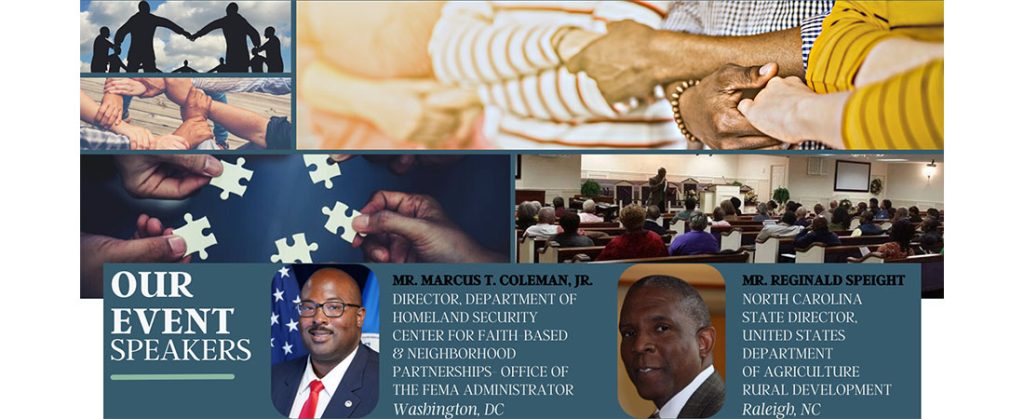 Peletah Institute for Building Resilient Communities and Healthier Together will present the ENC Regional Church and Community Resiliency Collaborative at the New Bern Riverfront Convention Center on Monday, March 28, 2022, from 10:00 a.m. – 3:00 p.m.
Distinguished Featured Speakers will be Director Marcus T. Coleman, Department of Homeland Security Center for Faith Based and Community Partnerships – Office of the FEMA Administrator (Washington, DC) and Director Reginald Speight, USDA NC Rural Development (Raleigh, NC).
NC Emergency Management will be on site to assist churches with accessing the FEMA grants portal and receiving information from Houses of Worship for unmet needs from Hurricane Florence.
There will be more than 35 regional/state resource providers onsite including housing assistance, free health screenings, employment opportunities, Covid-19 vaccine/boosters and testing as well as fresh food boxes. Transportation is available. Masks will be required as testing and vaccines/boosters will be offered onsite. Registration is requested. Registration can be completed online at EventBrite, via email or calling 252-633-1624. Space is limited so register today.
This is a mask-required event as COVID19 testing and vaccines/boosters will be available onsite.
Pre-registration is requested:
Online: https://www.eventbrite.com/e/enc-regional-church-community-resiliency-collaborative-tickets-293986470447
https://www.eventbrite.com/e/enc-regional-church-community-resiliency-collaborative-tickets-293986470447
By Dr. Dawn Baldwin Gibson