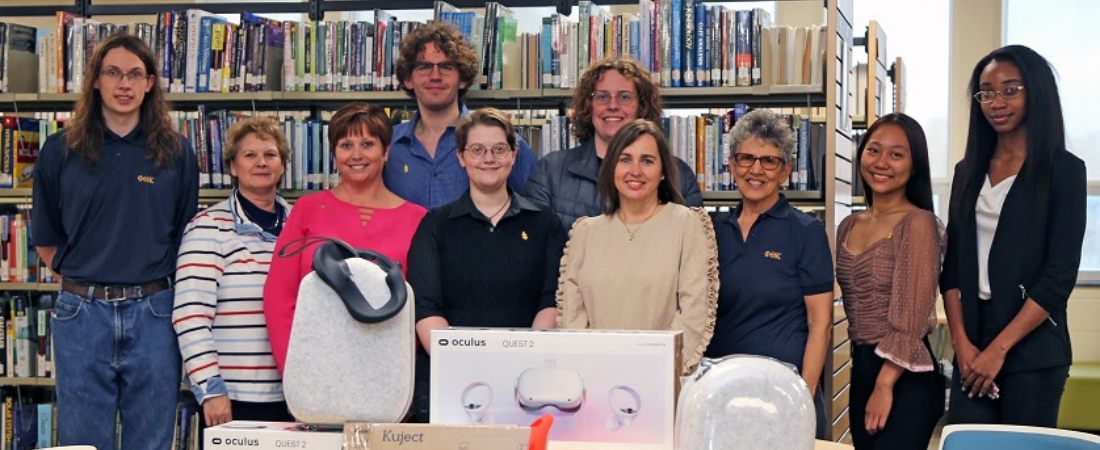 Members of Alpha Phi Nu (APN), Craven Community College's (Craven CC) chapter of Phi Theta Kappa (PTK) honor society, recently donated two virtual reality (VR) sets that will allow students to check them out from the college's Godwin Memorial Library. The funds for the equipment were provided by a 2021 Honors in Action grant from the Mellon Foundation.
This donation was the result of the chapter's Honors in Action project. Honors in Action combines academic research, problem solving, and action-oriented service to address real-world challenges, and students gain job-related experience while creating lasting impacts in their communities. The project started last summer when the chapter members began researching the use of VR in education and mental health.
APN applied for a grant to explore the topic "Immersive Virtual Reality: Implications in Mental Health for Students in Remote Learning." The project was based on the PTK Honors in Action 2020-2021 Honors Program Guide "To the Seventh Generation: Inheritance and Legacy" – Theme Six "Perceptions of Progress." The grant program is funded by the Andrew W. Mellon Foundation and is specifically awarded to chapters that demonstrate a strong Honors in Action proposal to support their research.
The team surveyed the student body to ascertain their perceptions of positive and negative outcomes of remote learning during the pandemic and to gain an understanding of their attitudes toward using immersive VR. The study found that 82.7% of students were interested in using immersive VR. However, 58% of those responding did not have access to VR equipment.
"In our case, we identified a resource that was lacking here at Craven, and use the Honors in Action grant to fund it—that students did not have access to take home immersive virtual reality equipment," said Dr. Angela Foster, Craven CC communications faculty and PTK faculty advisor. "Many classes here at Craven are already using VR, with others planning to do so. We felt it was important for students to have access to this equipment and technology in a home setting, as the cost of the equipment is prohibitive for many of our students."
The APN chapter applied for the grant in early August 2021 and received it on Aug. 24. The funds were used to purchase two new Oculus Quest 2 headsets with carrying cases and accessories, which they officially donated to the library on Feb. 21. The VR equipment is expected to be available for checkout by July. Craven CC will be one of only three community colleges in North Carolina that allows students to rent VR sets.
"We were overjoyed to receive the grant and even more excited at the possibilities it held for us," said Craven CC student and PTK Vice President for Scholarship Bethany Uldrich. "Virtual reality offers students the ability to be in front of an audience or a classroom setting, without ever having to leave their own room. This can help students who are struggling online and can help alleviate the stress of the pandemic."
Honors in Action members involved in this project include former Vice President of Scholarship Austin LaBarbara, current Vice President of Scholarship Bethany Uldrich, President Apostolos Vogiatzis, Vice President of Fellowship Morgan Scotten-White, and PTK members Joanne Fiescko, Denise Mullins, Bryan Perez, John Collins, Cash Collins, and Olivia Van Sickle.
APN has earned a five-star rating for 12 consecutive years. Five-star status is the highest level of achievement a chapter can attain through its participation in campus, local, regional, national, and international activities. Chapters that receive the award help promote PTK's hallmarks: leadership, service, scholarship, and fellowship.
By Craig Ramey, Director of Communications, Craven Community College