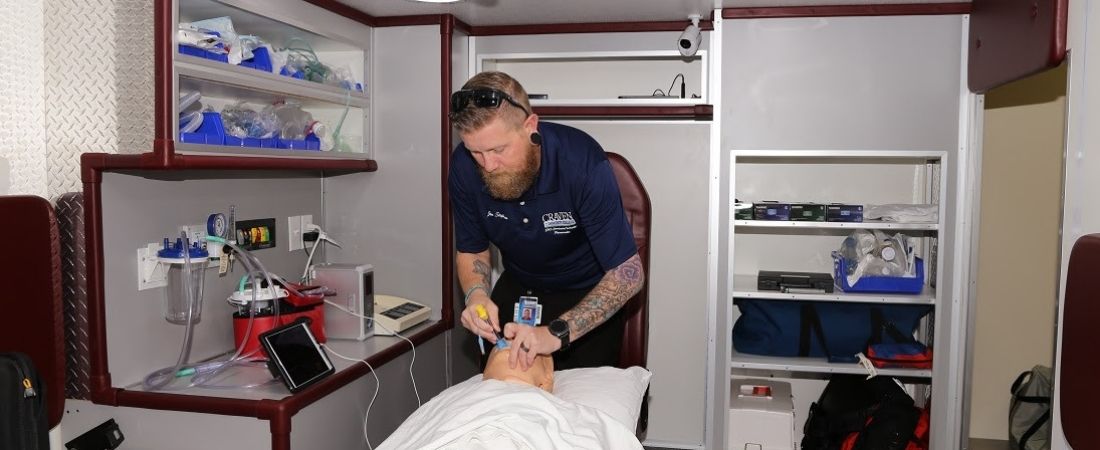 Craven Community College (Craven CC) and Carteret Community College (Carteret CC) recently signed an agreement that allows Craven CC students in the Paramedic certificate program to transfer into Carteret CC's Associate in Applied Science (AAS) in Emergency Medical Science (EMS) Bridging degree program.
Students who complete the Paramedic certificate program at Craven CC are eligible to take the North Carolina Paramedic credentialing exam. Through the bridging program, currently credentialed paramedics earn 45 semester hours of credit (SHC) toward the AAS degree, with an additional 25 SHC required to complete. Students must complete 25% (18 SHC) of the required 25 SHC through Carteret CC. Qualifying students may begin the program in the fall, spring, or summer semester.
"We are excited to partner with Carteret Community College to provide the Emergency Medical Science Bridging program," said Jon Stephens, Craven CC EMS programs coordinator and instructor. "Most students who complete our program go on to work as professional paramedics for private ambulance services, fire departments, hospitals or other rescue services, all of which are essential for ensuring the best care in our communities."
This agreement was established based on Craven CC's and Carteret CC's continued accreditation by the Commission on Accreditation of Allied Health Education Programs upon the recommendations of the Committee on Accreditation of Educational Programs for the Emergency Medical Services Professions (CoAEMSP). Craven CC's Paramedic program is a non-credit program designed to meet requirements of the North Carolina Office of EMS, National Registry, and CoAEMSP.
Anyone interested in this opportunity can contact Stephens at 252-672-4698. For more information on Craven CC's EMS programs, visit cravencc.edu/emergency-medical-services.
By Craig Ramey, Director of Communications, Craven Community College