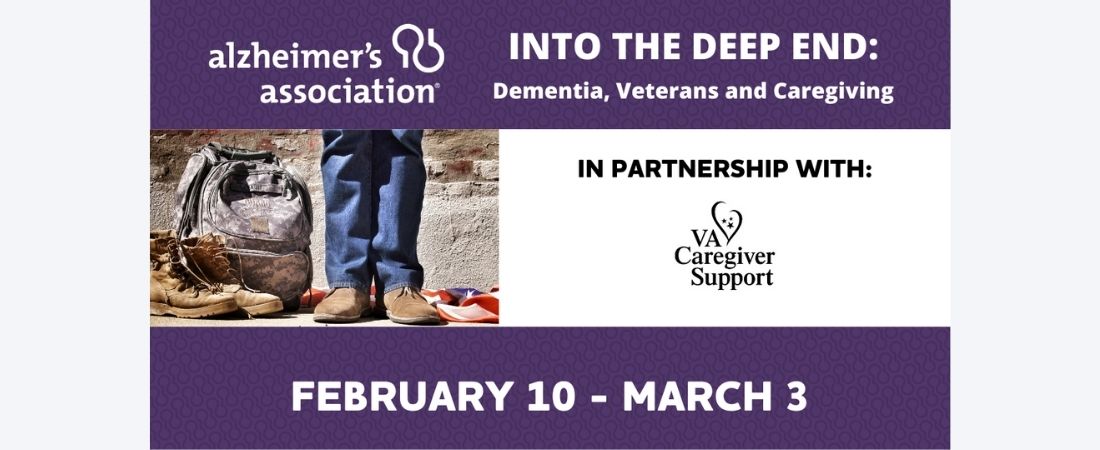 The Alzheimer's Association, Eastern North Carolina Chapter and Alzheimer's Association, Western Carolina Chapter are hosting Into the Deep End: Dementia, Veterans and Caregiving Series, a four-part virtual webinar series taking place across North Carolina in February and March.
Taking care of a loved one with Alzheimer's disease or another dementia can be challenging for anyone, and caregivers often feel that they have been thrown into the deep end without a life jacket. For veterans, already dealing with unique issues related to their service, finding that lifeline may feel even more difficult. This series focuses on challenges that caregivers may face every day, with a special emphasis on issues unique to veterans. It will include discussion on the latest research surrounding veterans and increased risk factors for developing dementia, and provide resources available to help veterans and their families.
"Those who have served our country deserve dignity throughout their lives," said Lisa Roberts, Executive Director of the Alzheimer's Association, Eastern North Carolina Chapter. "Equipping veterans, who are living with dementia and their caregivers, with the resources to preserve the respect they have earned is one of the most important roles we can play as an organization."
The series will be presented by Rona Klein who is the Memory Care Manager at Salemtowne Retirement Community, as well as an Alzheimer's Association Community Educator and Support Group Facilitator. Each webinar will offer expert speakers, guest panelists, and time for discussion.
Part one of the series — "Understanding Alzheimer's & Dementia" — will take place on Thursday, February 10 from 11:00 a.m. – 12:30 p.m. Alzheimer's disease is not a normal part of aging. Learn about the impact of Alzheimer's; the difference between Alzheimer's and dementia; stages and risk factors; current research and treatments available for some symptoms; and Alzheimer's Association resources. Additional presenters for this program include Kimberly Cole, a licensed clinical social worker for Charles George Department of Veterans Affairs Medical Center, and a leader for the VA Dementia Caregiver program.
Part two — "Changes in Communication, Relationships & Personal Care" — will take place on Thursday, February 17 from 11:00 a.m. – 12:30 p.m. In the middle stage of Alzheimer's disease, those who were care partners now become hands-on caregivers. Hear caregivers and professionals discuss helpful strategies to provide safe, effective and comfortable care throughout the stages of Alzheimer's.
Part three — "Addressing Challenging Behaviors & Home Safety" — will take place on Thursday, February 24 from 11:00 a.m. – 12:30 p.m. As Alzheimer's disease progresses, changes in behavior can leave a caregiver feeling unprepared. This program will talk about managing behavioral symptoms, wandering, and keeping the person with dementia safe, if and when these behaviors emerge.  The presentation will review ways to manage medication, address driving issues, and what steps may be necessary if your loved one is living alone.
Part four — "Planning ahead: Options for Care & Caregiver needs" — will take place on Thursday, March 3 from 11:00 a.m. – 12:30 p.m. Navigating the various options for long term care can be confusing for anyone. In this program, we will take a look at finding, engaging and monitoring home care assistance. We will also take a look at future care provision issues and how to prepare for a time when extra help may be needed. Additional presenter for this program will be Brandon Davis, Senior Care Coordinator for Veteran Services of the Carolinas.
This series is being hosted in partnership with VA Caregiver Support. Webinars are open to the general public and veterans and families affected by dementia. There is no charge to participate, but registration is required, and a recording of each program will be made available to all registrants.  Attendees can attend via video/webinar or through a toll-free number. To sign up, visit tinyurl.com/ALZDeepEndSeries or call 1-800-272-3900.
By Christine John-Fuller, Alzheimer's Association