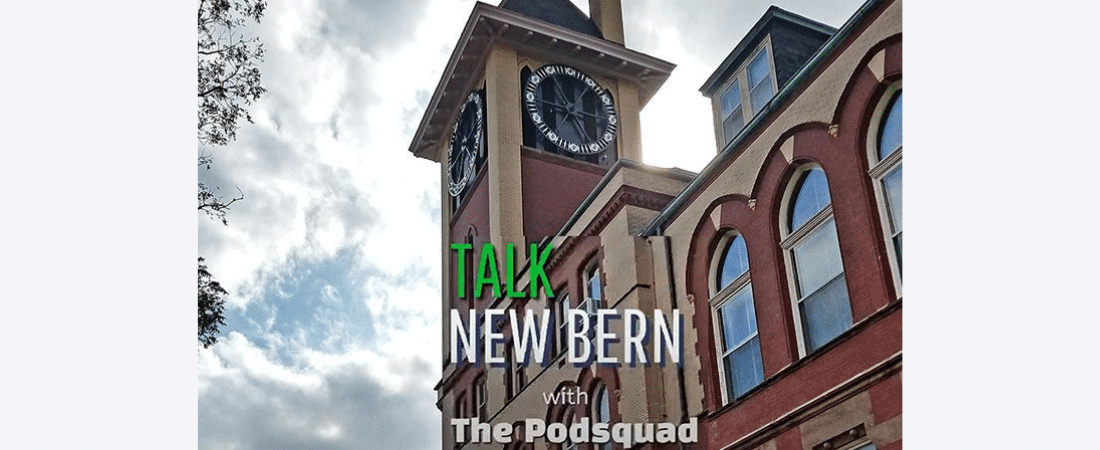 The Podsquad – Pat Drake, Susan Moffat-Thomas, and Wendy Card talked about the people, places, and latest happenings in New Bern and surrounding areas. Special guests: Steve Kelly with New Bern Mardi Gras, Tim McGuire with COTA for Evan, and Kru Snyder with Nine Limbs Strikers.
Watch:

Listen:

Show Notes:
01:25 – Catching up with The Podsquad
02:17 – Tryon Civitan Club charity golf tournament
04:02 – VOLT Center
07:00 – Eastern Carolina Amateur Baseball League
11:50 – Steve Kelly, New Bern Mardi Gras Festival and Parade
24:54 – Tim McGuire, COTA for Evan
37:31 – Kru Snyder, Nine Limbs Strikers
51:36 – Board of Alderman enter into MOU with New Bern Historic, LLC
67:35 – New Bern Music Calendar
67:58 – New Bern Farmers' Market
The video and audio will be uploaded to NewBernNow.com, Youtube, iTunes, Libsyn, and wherever you listen to your podcasts.
You can also listen to the show on New Bern's News Talk Radio Station WNOS 103.9FM by tuning in every Wednesday at 8 a.m. and 5 p.m.
We'll be back on February 17, 2022 from 1:00 p.m. – 2:00 p.m. Watch live on New Bern Now's YouTube Channel and NewBernNowNC's Facebook page.
Let us know if you'd like to be a guest or if you have any questions by sending us an email.
By Wendy Card