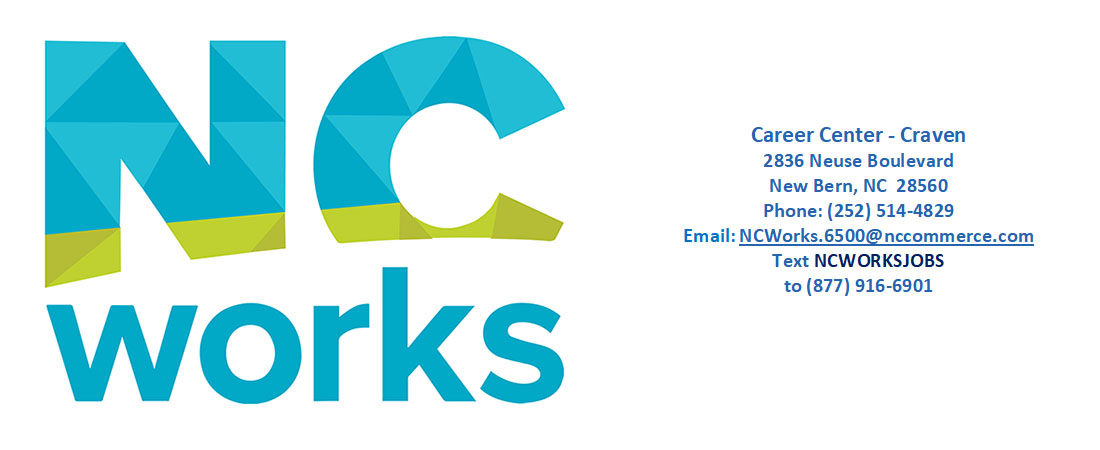 Atlantic Health Group, Inc. – Personal Care Assistant (Havelock) [JO #12023256]
BAYADA Home Health Care, Inc. – Adult Nursing – Client Services Associate [JO #12024411]
CarolinaEast EMS – EMT Paramedic II [JO #12025398]
City of Havelock – Telecommunicator [JO #12026787]
City of New Bern – Administrative Assistant (Fire Dept.) [JO #12024879]
Contemporary Nutrition Inc. – Registered Dietitian Nutritionist [JO #12022749]
County of Jones – Senior Nutrition Site Assistant (Part-time) [JO #12026804]
County of Pamlico – Disaster Recovery Administrator [JO #12025795]
Craven Community College – Admissions Specialist [JO #12024145]
Craven County Government – Accounting Technician III [JO #12026749]
Craven-Pamlico Regional Library – Library Assistant II (Youth Services) [JO #12026824]
Duke Energy Business Services, LLC – Associate/Vegetation Specialist Management [JO #12023313]
Habitat for Humanity of Craven County – Assistant Repair Site Supervisor [JO #12016865]
Lowe's Home Improvement – Customer Service (Part-time) [JO #12015073]
MERCI Clinic – Clinic Administrative Assistant (Part-time) [JO #12026657]
Methodist Home for Children – Resident/Youth Counselor [JO #12017697]
NC Department of Transportation – Transportation Worker (Pamlico) [JO #12015510]
Pamlico Community College – Bayboro Center Administrative Assistant (Part-time) [JO #12026830]
Pamlico Correctional Institution – Correctional Officers [JO #11990338]
ServiceSource/Employer Source, Inc. – Assistant Project Manager (Food Service) [JO #12020250]
Wirthwein New Bern Corps. – Controller [JO #12024971]
WorkSteer Staffing – Automotive Technician [JO #12024095]
For more details/how to apply, visit ncworks.gov and search by JOB # or Text NCWORKSJOBS to (877) 916-6901.
###
MCCS Cherry Point offering $100 hiring bonus. Child Development Centers. You don't have to be in the military to work on MCAS Cherry Point. Visit usmc-mccs.org/careers.
###
For more information, visit Career Center – Craven, 2836 Neuse Blvd., New Bern, NC, call 252-514-4828, send an email, or text NCWORKSJOBS to 877-916-6901.
Auxiliary aids and services are available upon request for individuals with disabilities. Committed equal opportunity employer/program.
By Reeshema Walker, Center Manager, NCWorks Career Center