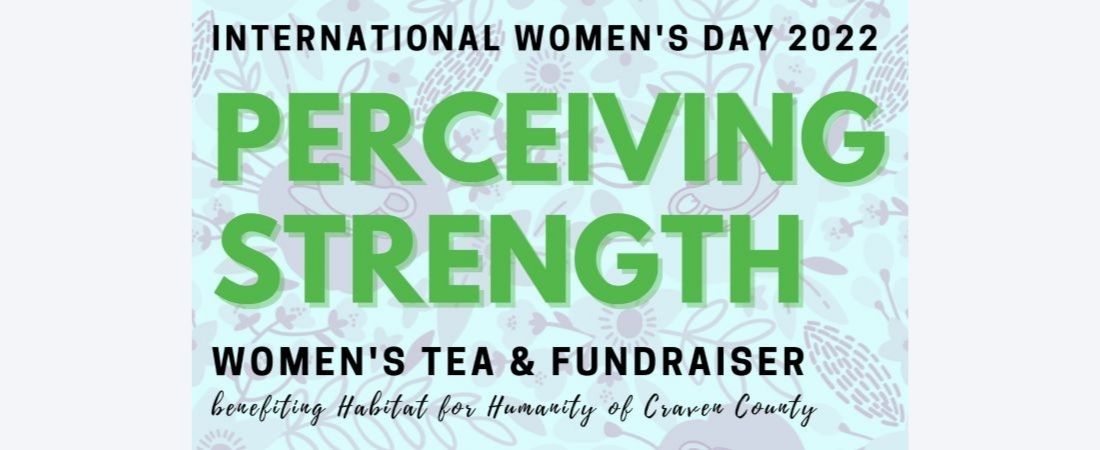 International Women's Day will be celebrated by Habitat for Humanity of Craven County with a "Perceiving Strength" Tea & Fundraiser event on Tuesday, March 8, 2022, from 5:30 to 7:30 p.m. at the Harrison Center on Middle Street. In addition to tea served in beautiful China teacups, and a selection of delicious pastries and finger sandwiches, a silent auction will offer an opportunity to bid on a variety of great items. The theme for this special benefit comes from Australian writer G. D. Anderson who wrote, "Women are already strong. It's about changing the way the world perceives that strength."
Guest speakers during the evening will include Bethany Richards, founder of The Bike Box Project, and Amellia Jenkins, a Habitat homeowner currently working with Habitat on her own home. "My children need a base, a foundation to call home. A place to grow up, a room to call their own, their own piece of peace. One of my biggest dreams was to be a homeowner and it has always been something very important to me," said Ms. Jenkins.
International Women's Day is a global day celebrating the social, economic, cultural, and political achievements of women. "Habitat for Humanity believes that every woman has the power to change the world," said Catherine Campbell, Volunteer Coordinator for the Craven County affiliate. "This event is the first day of our Women Build Week, from Tuesday, March 8 through Saturday, March 12. We want to encourage women to volunteer and enjoy an opportunity to work on the home for Amellia Jenkins and her two children on Aycock Street in the Pembroke neighborhood," explained Ms. Campbell. Volunteers for Women Build do not need any construction experience, but they will gain the confidence and skills to pound nails, raise walls, and create hope for another family in our community. Women can work all day or for only part of the day, any day during the week.
Tickets for the "Perceiving Strength" benefit event are $25 per person, or $200 for a table of 8 guests, and can be purchased by contacting Catherine Campbell at Habitat for Humanity at 252-633-9599, ext.104, or at ccampbell@cravencountyhabitat.org. Additional donations, or Regrets with a donation, are always welcome. Volunteers can also sign up for any day of Women Build Week with Catherine with the same contact information.
By Catherine Campbell, Habitat for Humanity of Craven County