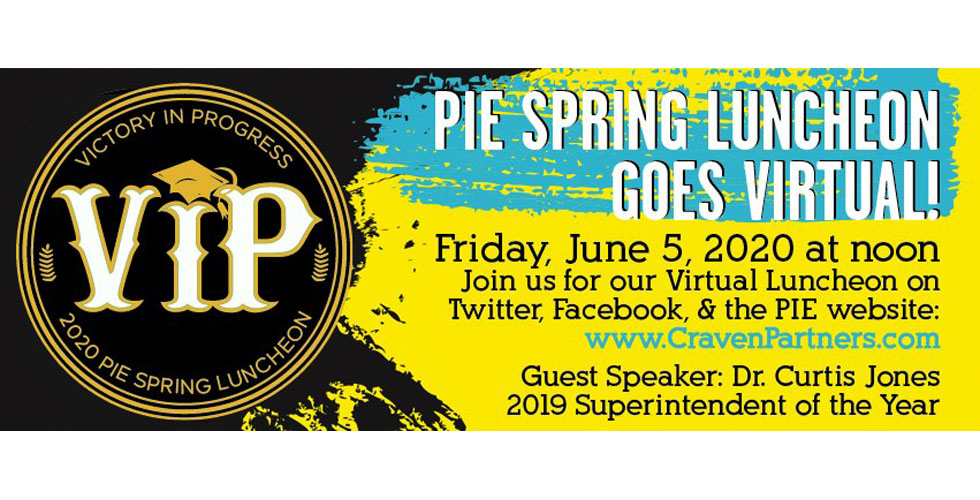 Do you have lunch plans this Friday, June 5th?  We want to encourage watch parties (with safe social distancing in mind), or if you can't get out, in your home or office, of our #VirtualPIELuncheon! Post pictures (on June 5th, between noon – midnight) watching the event on social media with the hashtag #VirtualPIELuncheon and you will be entered into a drawing for a $100 gift certificate to Morgan's Tavern & Grill and a $100 gift certificate to The Chelsea! Tag everyone in your watch party so they will also be eligible for the drawing!
You can brown-bag your lunch, or visit one of our sponsors for lunch:  Bojangles, Zaxby's, Morgan's Tavern & Grill, or The Chelsea. Get a to-go order for your office and support these businesses.
The event features entertainment from our students and staff, and Dr. Curtis Jones, 2019 National Superintendent of Year, as our keynote speaker. You all know we have spectacular musical talent in our schools and Dr. Jones delivers just the kind of message we all need to hear. David Baxter, PIE President, and Kim Scott, PIE Board Member are the hosts. I'm very proud of the production and effort that everyone put into the event.
The Virtual PIE Spring Luncheon, a recorded event, will be available for viewing beginning Friday, June 5th at noon.  Some of you might not be able to view it at that time, so it will remain available for viewing on the PIE Facebook and Twitter accounts and on the PIE website, www.CravenPartners.com. Thanks to our sponsors, this is a free event, no pre-registration or tickets are required.
Submitted by: Darlene Brown, Executive Director, Craven County Partners In Education