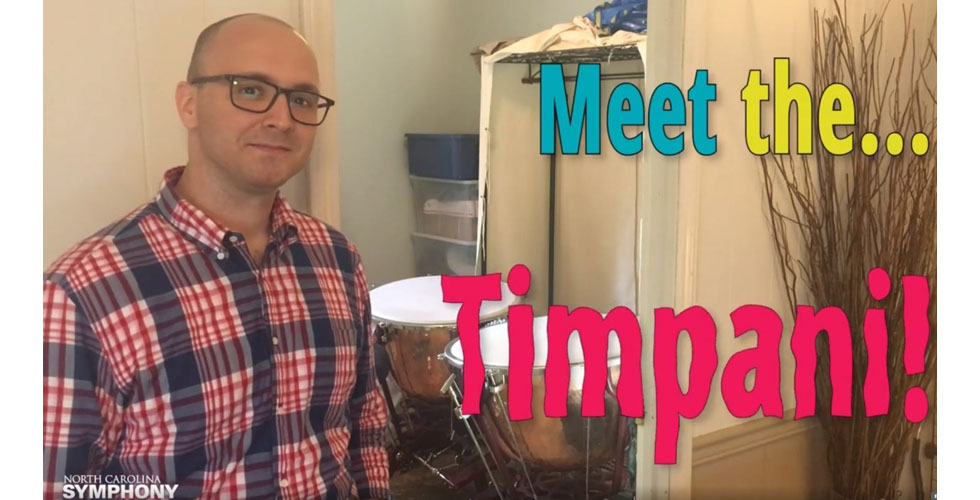 Raleigh, NC – "They're big, shiny, and very heavy," says North Carolina Symphony Principal Timpani Colin Hartnett, proudly. "Each one of these drums weighs about as much as I do, which is… close to 200 pounds," he adds with a quick raise of his eyebrows and a smile toward the camera.
From his home, Colin is introducing his instrument, the timpani drums—which, as he explains in the video, he first played in school band as a kid, but really fell in love while playing with his college orchestra. Colin's video is the first in the North Carolina Symphony's newest virtual education series, Meet the Instruments!
Through the series, K-5 students will get to know the many instruments of the orchestra—as well as the musicians who play them. Each video will cover one instrument's history, how it is played, what it sounds like, what makes it unique, and the role it plays in the orchestra. Meet the Instruments! is generously sponsored by MetLife Foundation.
This series is the latest in the North Carolina Symphony's ever-expanding virtual education resources. In March—in immediate response to the pandemic—NCS released an online Education Concert and companion Student Book, with curriculum-aligned lesson plans distributed weekly to educators and parents. In April, the Symphony shared its first Ensembles in the HOME Schools program, a digital transformation of its in-school program that features a string quartet of NCS musicians demonstrating the collaboration that goes into music-making. These resources have now been accessed 50,000 times, in counties throughout North Carolina, across the U.S., and even worldwide.
NCS leads the most extensive music education program of any symphony orchestra and believes that, during this challenging time, students need access to the arts more than ever. The Symphony is deeply grateful to the State of North Carolina and to the corporations, foundations, and individuals who generously support our education program—as well as the North Carolina Department of Public Instruction and our school system partners—for enabling us to support parents and teachers in keeping music education in students' lives.
During the pandemic, the Symphony is also regularly releasing videos for our adult audiences—including performances filmed by individual musicians in their homes and new releases of recordings from past concerts. For the Symphony's complete library of video content, please visit our YouTube Channel.
The new Meet the Instruments! series is intended for an elementary school audience, but if Colin's debut video is an indication, adult audiences will certainly enjoy watching as well—and, are likely to learn some things they didn't know about orchestral instruments and the NCS musicians!
Click here to watch Meet the Timpani! with Colin Hartnett, the first video in the Meet the Instruments! series. For more virtual music education content, please visit ncsymphony.org/virtual and enter password 1932.
Submitted by: Meredith Kimball Laing, Director of Communications, North Carolina Symphony