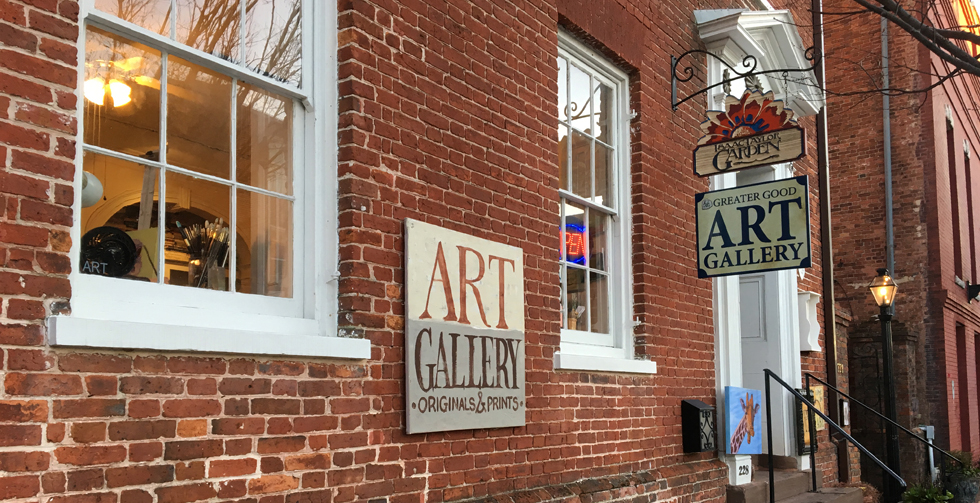 The Greater Good Gallery will be hosting a final clearance sale during ARTWalk from 5 – 8 p.m. on Friday, June 12, 2020 at 228 Craven Street in downtown New Bern, NC. The event will feature oil paintings by Carol Jones and Lisa Bisbee Lentz. Prices will be significantly reduced to make way for a new creative venture in a new location.
Until the new locale is established, the gallery at the Isaac Taylor house will be transforming into an art school for the summer months. Lisa Bisbee Lentz will hold workshops and open studio time for kids and adults.  A graduate of Savannah College of Art & Design (SCAD), she describes the learning experience, "It's a time to develop your imagination, relax, and enjoy the creative process with a little guidance from a professional artist. My workshops will focus on building skill-sets of design to create art."
Pointing out that creativity enhances mental health, Lisa explains, "Often it can be used as a meditation or therapy as a coping skill. In these uncertain times, we all need outlets where we can feel good expressing ourselves as we deal with the challenges of stress and anxiety."
Lisa Bisbee-Lentz has taught Art & Design classes to individuals of all ages. She taught the basics of graphic design at the Art Advertising Academy in Cincinnati, Ohio; and in Denver, CO, at the Denver Institute of Technology. She taught elementary art classes to children in kindergarten through 8th grade in the Carteret County public school system. In Vancouver, Canada, she gave drawing and painting workshops to pre-schoolers and up to 80+ years of age.
No experience is necessary and beginners are welcome. For more information, visit www.lisabisbee.com or stop by during ARTwalk to review class schedules and course outlines.
Submitted by: Lisa Bisbee-Lentz, Artist Representative, Greater Good Gallery