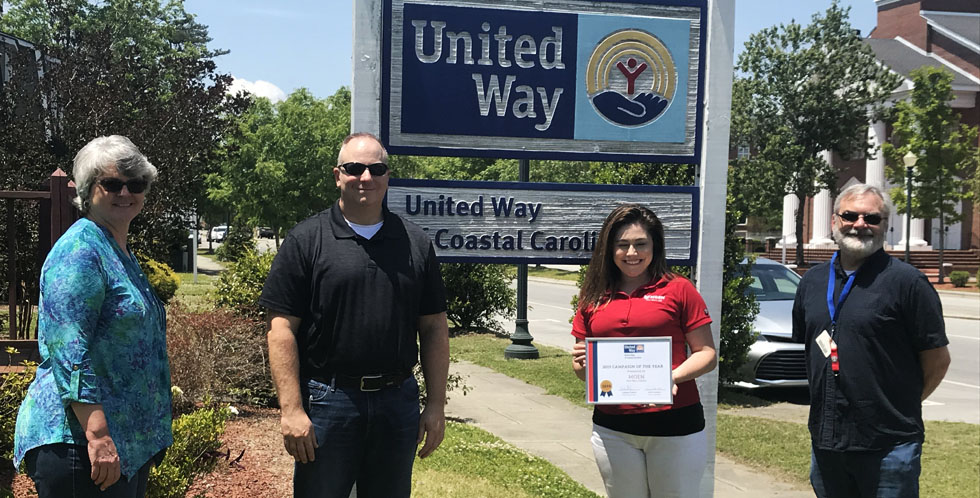 New Bern, NC – United Way of Coastal Carolina announces that the 2019-20 Annual Campaign has wrapped up successfully with over $490,000 raised to fund non-profit agencies and programs that help those in need in Carteret, Craven, Jones and Pamlico Counties.
United Way has recognized MOEN, Inc. in New Bern as the 2019 Campaign of the Year.  The associates at MOEN donated a record-breaking $195,000 which will help service providers in our communities.  In addition to the campaign, MOEN was recognized for their community spirit and outreach. During the year MOEN associates installed a Born Learning Trail at Pleasant Hill Park, refurbished the play yard at the Coastal Women's Shelter, and collected over 3000 books in the United Way's Books for Littles Drive.
Publix Store #1533 in New Bern and Publix Store #1623 in Emerald Isle were recognized as 2019 Retail Campaign Award winners for their United Way giving campaigns. The stores raised a combined total of $69,511.
The Volunteer of the Year was awarded to Emily Abner of MOEN.  Mike Papuga of MOEN was recognized as United Way Board Member of the Year.
UWCC Executive Director Sandra Phelps states, "Since 1957, an amazing $19 million has been raised from compassionate citizens through the annual United Way of Coastal Carolina (UWCC) campaign. There is a spirit of giving that is prevalent throughout our community."
Throughout 2019, United Way of Coastal Carolina has been very actively involved in Long Term Hurricane Recovery groups efforts in Carteret, Craven, Jones and Pamlico Counties.  Many families in these counties have been able to return to their homes or find new safe housing because of the volunteers working in these groups.
The United Way of Coastal Carolina had its beginnings in the Coastal Carolina area in 1957. What started as just a fundraising organization 60 years ago, has developed into an organization focused on measurable, long-lasting results focused on the local community's most compelling needs. Education, Income and Health are the three major areas of focus. Currently there are 15 funded programs serving individuals in Carteret, Craven, Jones
and Pamlico Counties. Funds are raised locally to fund local programs. For more information or to make a donation, visit www.unitedwaycoastalnc.org.
Submitted by: Sherwood Crawford, United Way of Coastal Carolina