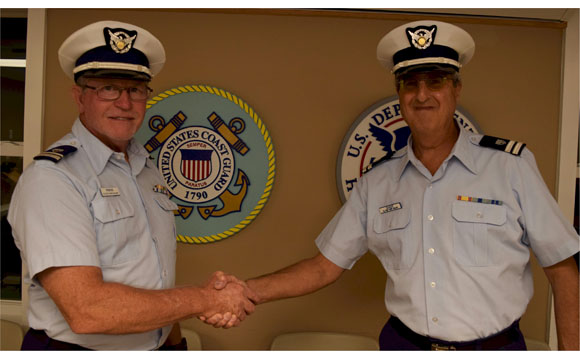 Atlantic Beach, NC – The U.S. Coast Guard Auxiliary (Ft. Macon, Atlantic Beach, Morehead City, Beaufort, areas) is proud to announce it is having its Change of Watch on Saturday evening January 04, 2020, 6:00 p.m. – 9:30 p.m. at The Inn at Pine Knoll Shores in Pine Knoll Shores.
Flotilla Commander Mark Sonder will be welcoming to the helm as Vice Flotilla Commander, Captain Jeffrey Lance Perkins. The public is welcome to attend the dinner and to meet their local U.S. Coast Guard Auxiliary members patrolling and educating the Atlantic Beach, Morehead City, and Beaufort communities.
For reservations, please leave a voice mail or email letting us know your name and how many people will be attending. Dinner and the Ceremony is set at $23.00 (including taxes and gratuities). Please call (252) 499-2431 or send an email.
Your Flotilla supports public, recreational and commercial boaters operating around the northern end of Bogue Banks and operations at Coast Guard Station Fort Macon, NC. The Flotilla also instructs their "Local Knowledge for Mariners," "Suddenly In Command," as well as the USCG Course leading to a boater education card, "About Boater Safely" classes.
The Inn at Pine Knoll Shores is located at 511 Salter Path Rd, Atlantic Beach, NC 28512. This is one of the premier properties in the area. More information is available at www.uscgauxmoreheadcity.com
Please join us for our Change of Watch. We are looking for new members. Prior military experience or owning your own boat is NOT required!
Submitted by: Mark Sonder, Flotilla Commander, U.S. Coast Guard Auxiliary