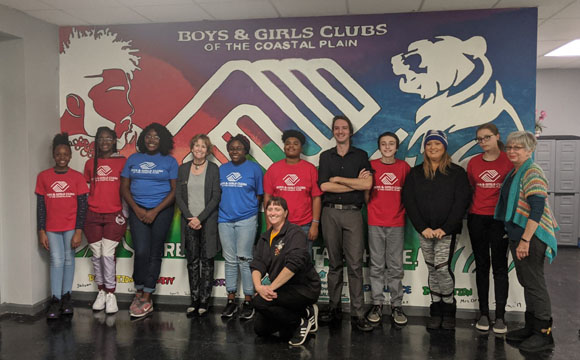 Craven Arts Council and the Boys and Girls Club of the Coast Plain are proud to announce the completion and unveiling of a new mural at the Boys and Girls Club Teen Center in New Bern. Designed with input from and painted by the members of the club, the mural is a permanent addition to the center that signifies the importance of the Club community and the arts to our youth.
Measuring 14 feet long and 8 feet high, the mural depicts the logo of the Boys and Girls Club flanked on one side by silhouettes on the left and a bear on the right. Speaking at the unveiling of the completed project, Regional Vice President Dre Nix said " the mural illustrates how the support of the staff, mentors, and members on the left and the City of New Bern, represented by the bear on the right, come together to help achieve the goal of the Club: providing a positive environment where they can learn, play and grow."  Below the image are listed the core values of the Club, signatures by the students and volunteers who completed the project, and the logos of the project partners: the Boys and Girls Club of the Coastal Plain and Craven Arts Council and Gallery.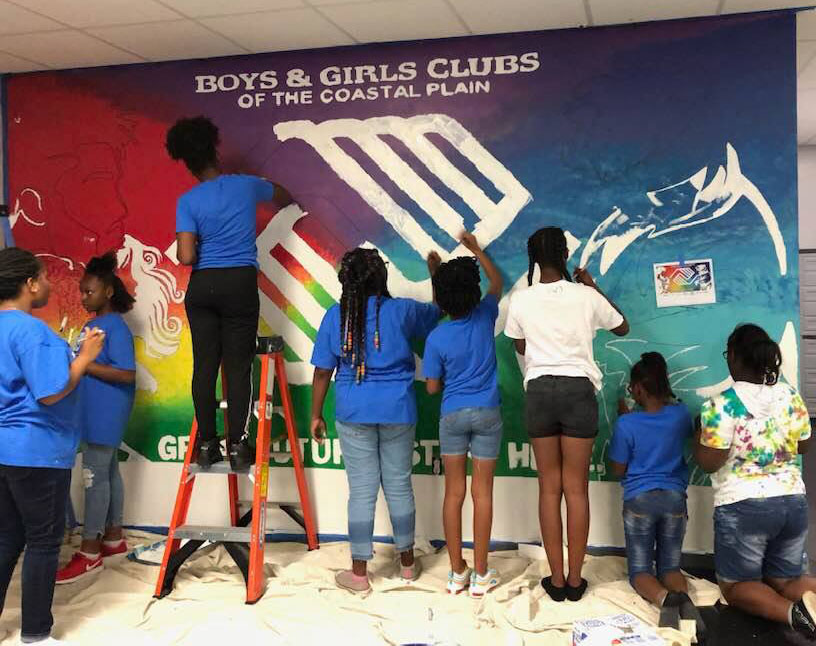 The project was started in the summer of 2019, when CAC&G staff meet with students to create thought maps and drawings based on what the Boys and Girls Club means to them. The Arts Council staff then used the drawings and ideas put forth by the students to create a design for the mural, and outlined it on the wall. The students of the Club spent four days painting the mural under the direction of CAC&G Gallery Director Jonathan Burger and Board Member Sandy Bruno, along with Boys and Girls Club Unit Director VeQuain Joyner and staff member Katrina Peri.
The mural is located inside the Boys and Girls Club Teen Center on Queen St in the New Bern. The site is not open to the public, however photos of the completed project and the process are available at www.cravenarts.org.
For more information please contact Jonathan Burger, Marketing and Gallery Director, Craven Arts Council & Gallery, Inc. at the Bank of the Arts, 317 Middle St., New Bern, 252-638-2577.
Submitted by: Jonathan Burger