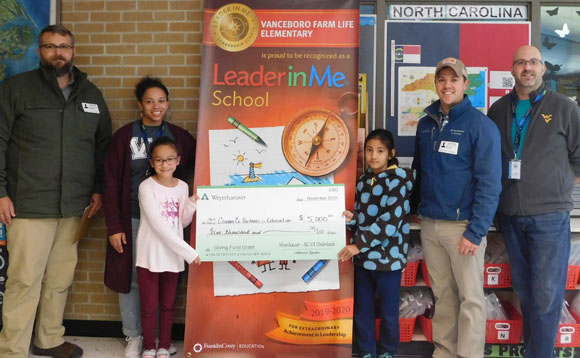 Craven County, N.C. – Weyerhaeuser and Craven County Partners In Education announced a $5,000 investment from the Weyerhaeuser Craven County office through the Weyerhaeuser Foundation. The funds will be used towards the Leader In Me Program at Vanceboro Farm Life Elementary, located in Vanceboro, North Carolina.
Darlene Brown, executive director of Partners In Education, explains, "At the heart of the Leader In Me grant are the 7 habits of highly successful people. Students and school staff are taught the 7 habits in ways and terms at each grade level in age/development appropriate ways to grow students as leaders who can lead self, then lead others. The entire school reinforces the 7 Habits and Leader In Me practices with a culture that nurtures student voice and choice, supported by a caring physical and emotional environment, in a language that communicates the worth and potential of every child."
Vanceboro Farm Life Elementary principal, Dan Palimetakis said, "the Leader In Me process teaches students the skills needed for academic success in any setting. These skills include critical thinking, goal setting, listening and speaking, self-directed learning, presentation-making, and the ability to work in groups."
"By giving students the opportunity to connect what they're learning through Leader In Me to the real world, we're helping foster the next generation of leaders," said Lori Worley, Weyerhaeuser Company's Region Finance & Planning Manager – Timberlands & Southern Regeneration. "We're proud to be a supporter of the Leader In Me program, creating lifelong habits in every child at Vanceboro Farm Life Elementary."
Pictured at the check presentation are: John Minter, Harvest Manager with Weyerhaeuser; Ciara DiNapoli, teacher at Vanceboro Farm Life Elementary; students Laila DiNapoli and Diana Mojica Felipe; John Eide, Harvest Manager with Weyerhaeuser; and principal Dan Palimetakis.
Founded in 1900, Weyerhaeuser is today one of the world's largest forest products companies. They employ thousands of people in businesses that grow, harvest and sell trees, and make a range of forest products essential to everyday lives. They support U.S. and Canadian communities where they have a significant presence or business interest. These communities range from rural to metropolitan, each with unique priorities and needs. Weyerhaeuser employees serve on local advisory committees for the Giving Fund and develop funding priorities within their particular community. This provides a strong companywide framework for giving while allowing for flexibility to meet unique needs in the different communities that Weyerhaeuser serves.
Craven County Schools, located in Eastern North Carolina is comprised of 25 schools in the district.  The number of schools for the district overall are: 15 Elementary Schools, 5 Middle Schools, 3 Traditional High Schools, and 2 Early College High Schools. Craven County was home to the first chartered school in North Carolina, New Bern Academy, established in 1764. In 1986, New Bern City Schools merged with Craven County Schools to become a county-wide school district, serving a population of 103,505, with a land area of 708 miles.
Partners In Education is a 501(c)3 nonprofit corporation. The mission of Craven County Partners In Education is to support and advance educational experiences within Craven County Schools through collaborative community involvement. Since 1989, PIE has been changing the lives of students and families in our community by providing our educators with financial resources that enhance and reward innovative approaches to educational excellence. For more information about Partners In Education, visit www.CravenPartners.com.
Submitted by: Darlene Brown, Craven County Partners in Education