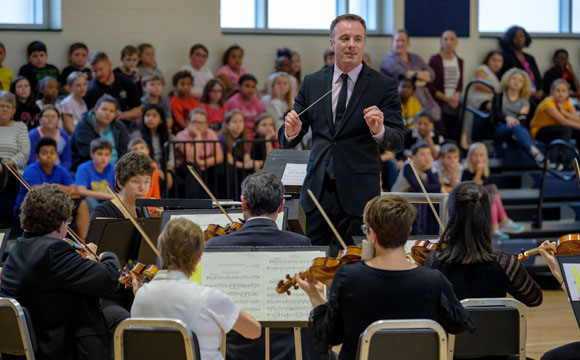 RALEIGH, N.C. – With the support of The Simple Gifts Fund, the North Carolina Symphony (NCS) has designed a three-year residency to build community through high-quality live orchestral music and music education experiences in Jones County, North Carolina.
The North Carolina Symphony believes that music experiences develop lifelong skills and create a sense of community. NCS looks forward to working with Jones County Schools and other community organizations to develop a long-term, immersive presence that will have a meaningful impact on the lives of children and adults.
"Hopefully students will discover that music will empower their sense of being for a lifetime," says Alexander Williams, Band Director for Jones County Schools.
The residency kicked off this month with the Symphony's very first Education Concert in Jones County, held at its new K-12 school. More than 400 students were in attendance as the Symphony performed its concert teaching core musical concepts such as rhythm, melody, tempo, and dynamics. To conclude the performance, students joined in singing "De Colores," a song they had studied and prepared in their music classes.
The Symphony's programs in Jones County over the coming three years include 12 Ensembles in the Schools performances, interactive programs for elementary school students; 12 Music Discovery events combining music and literacy for preschoolers and their families; an Instrument Zoo where students can try out orchestral instruments, to support 6th grade band recruitment; master classes in which NCS musicians coach middle and high schoolers on technique and musicianship; a side-by-side community concert where students will perform together with NCS musicians; and a community chamber music concert free to the public.
Jones is one of the designated counties for Governor Roy Cooper's Hometown Strong initiative, dedicated to supporting rural areas of the state.
About the North Carolina Symphony
Founded in 1932, the North Carolina Symphony (NCS) is a vital and honored component of North Carolina's cultural life. Each year, the North Carolina Symphony's 300 concerts, education programs, and community engagement events are enjoyed by adults and schoolchildren in more than 90 North Carolina counties—in communities large and small, and in concert halls, auditoriums, gymnasiums, restaurants, clubs, and outdoor settings. The Symphony's full-time professional musicians perform under the artistic leadership of Music Director Grant Llewellyn.
NCS's state headquarters venue is the spectacular Meymandi Concert Hall at the Duke Energy Center for the Performing Arts in downtown Raleigh. The Symphony's service across the state includes series in Chapel Hill, Fayetteville, New Bern, Southern Pines, and Wilmington, as well as the Summerfest series at its summer home, the outdoor Koka Booth Amphitheatre in Cary. NCS brings some of the world's greatest talents to North Carolina and embraces home-state artists from classical musicians to bluegrass bands, creating live music experiences distinctive to North Carolina.
Committed to engaging students of all ages across North Carolina, NCS leads the most extensive education program of any symphony orchestra—serving nearly 70,000 students each year. In alignment with the curriculum set by the North Carolina Department of Public Instruction, the Symphony provides training and resources for teachers, sends small ensembles into classrooms, and presents full-orchestra Education Concerts that bring the fundamentals of music to life. Music Discovery for preschoolers combines music with storytelling, and at the middle and high school levels, students have opportunities to work directly with NCS artists and perform for NCS audiences.
NCS is dedicated to giving voice to new art, and has presented 49 U.S. or world premieres in its history. In 2017, NCS appeared at The John F. Kennedy Center for the Performing Arts in Washington, D.C., as one of four orchestras chosen for the inaugural year of SHIFT: A Festival of American Orchestras—an honor that recognized the Symphony's creative programming and innovative community partnerships.
The first state-supported symphony in the country, NCS performs under the auspices of the North Carolina Department of Natural and Cultural Resources. To learn more, visit ncsymphony.org.
Submitted by: Meredith Kimball Laing, Director of Communications, North Carolina Symphony