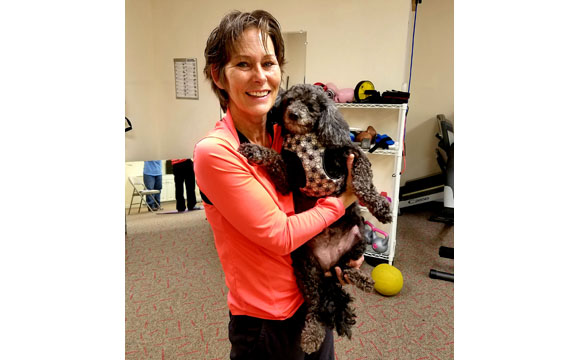 New Bern's Mobile Relaxation and Therapy for your Dog
Hearing about Rhonda Tennant's new business, Healing Paws Canine Massage Therapy, I had to meet her and find out more!
Healing Paws is the only mobile dog massage therapist in New Bern and surrounding areas! She offers in-home massages for your dog's comfort.
Rhonda is an inspiration for many! She was a personal trainer for 10 years and in 2012, her voice was altered during a surgery that damaged her vocal cord. After numerous surgeries, she realized that she could no longer continue as a personal trainer as talking loudly wasn't an option. She wanted to find a career that she was passionate about and helped others.
After much soul searching, Rhonda said, "What can I do…I love animals and I love dogs. I wondered if I could be a dog massage therapist. I started doing my research and I came across 'Holistic Animal Studies by Angels'".
After months of research, Rhonda discovered her calling and became a Certified Canine Myo-Manipulative Functional Therapist.
She performed 100 practical hours; 50 of them working with rescues at Craven-Pamlico Animal Services Center. She started her mobile business, Healing Paws Canine Massage Therapy in November 2019.
If your dog suffers from anxiety, arthritis, hip dysplasia, back problems, aching joins or other ailments, Healing Paws can help your dog!
As a small animal practitioner; Rhonda compliments local veterinarians with her efforts in holistic animal therapy as she offers the only mobile dog massage therapy in Eastern NC!
She knew her biggest obstacle was "educating the public as to why they need me." She believes in the importance of being relevant. She's filling a need in our community!
When you set up an initial consultation with Rhonda, she will come into your home, meet your dog, and start the fact gathering process. She'll determine what your dog's needs are and whether they are relaxation or therapeutic.
Although Rhonda is not a veterinarian, her knowledge of anatomy as a personal trainer contributes to her ability to assess your dog and discover any problem(s) they may be experiencing.
During the consultation (approximately 30 minutes), Rhonda will perform a mini-massage session to identify any vulnerabilities. She will be gathering facts from you and through observation, she'll take vital signs, perform palpations, and address areas that are affecting your dog's well-being. She may discover that your dog has pain that you're not aware of.
Then she will make an initial assessment and work with you to determine a plan of action to enhance your dog's quality of life.
Whether your dog has anxiety, arthritis, back problems, or you just want to pamper your pup, she can help you!
When we met, Rhonda showed her different techniques by demonstrating with her sweet dog, Marlee – a senior and blind dog.
She explained, "The top types of techniques that are used; depending on what the needs are can range anywhere from a Swedish and Relaxation massage, which is what I really do with all of them and it's to get them to relax. It helps them focus and allows me to get them to lay down".
"I then can move into a Myo-Fascial Release which is very similar to what we do with humans…sports massage, deep tissue…at this point, through the initial consultation, I can figure out if there's any adhesions, any areas that really need to be worked on like arthritis working with the joint(s). A lot of stretches and range of motion."
"Gua Sha really helps with the inflammation. I have Gua Sha tools and a sombra therapy cream that brings circulation."
"Shiatsu is very similar to what we use on humans. Working with the five-element theory where opposites work together. The Yin and Yang that's part of Chinese medicine. Working with the meridians: your water, wood, fire, earth, and metal theories. Some of the meridians work with back issues, digestion, calmness, emotions."
"And then working with the muscles of mastification with the TMJ…if it's an older dog that's had dental problems or a rescue with jaw issues (jaw broken or misalignments).
When you do the relaxation massage, it releases the endorphins, serotonin, dopamine, and cuts down on cortisol – just like with humans."
"These massages relieve muscle tension, increase range of motion, reduce scar formation, promote lymph circulation, and improve the immune system."
Everything is dependent on your dog's needs.
Rhonda uses aromatherapy like basil, which is used for focus and a blend of lemon grass, marjoram and frankincense for arthritis. These are only some of the canine safe oils she uses to suit your dog's needs.
Rhonda is passionate about what she does and said, "I want to make a difference and I want to help. I took a bad situation and made it positive." She hopes her efforts can help your dog live a happier life.
On a personal note, it's hard to get my dog, Finn, in a building with his anxiety issues, with the exception of A Dog's Dream…where he loves to play with his pals! This is a perfect example of how the mobility of Healing Paws Canine Massage Therapy can help your dog.
If your dog is shy or you're looking for an alternative option to help them, schedule a consultation with Rhonda by calling or texting 252-229-5509 or visit Healing Paws Canine Massage Therapy on Facebook.
Wendy Card