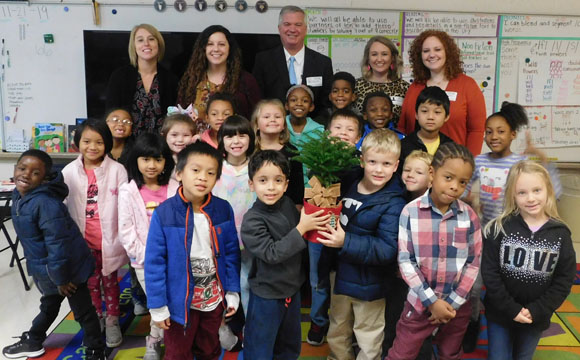 Edward Jones Financial Advisor Kevin Page partnered with Partners In Education to award a $100 gift card to Kristy Clay, a teacher at Trent Park Elementary.
Ashley Faulkenberry, principal at Trent Park Elementary, says, "Ms. Clay is a 1st-grade teacher at Trent Park Elementary in her second full year of teaching.  She has stepped up to become the grade chair while her colleague was out on maternity leave and has done an excellent job of organizing both her grade level and working with the school improvement team. Ms. Clay was also selected to participate as a pilot teacher in the Baldridge Continuous Classroom Improvement Learning System due to her strong instructional practices. Thank you, Ms. Clay, for the extra effort that you are giving this year and the difference that you are making for your students and your school."
The Edward Jones Teacher Recognition Award demonstrates the company's commitment to positively changing the lives of students and families in our community. Pictured, in the back row, are Ms.  Faulkenberry, Ms. Clay, and Mr. Page with staff members Ashley Gohn, Sr. Branch Office Administrator and Alicia Dixon, Sr. Branch Office Administrator, presenting the gift card with a "Christmas Tree" to Ms. Clay and her class.
If you would like to learn how your organization can make a difference to a Craven County Schools teacher in the classroom, please contact Darlene Brown, Partners In Education, at 514-6321.
Submitted by: Darlene Brown, Craven County Partners in Education