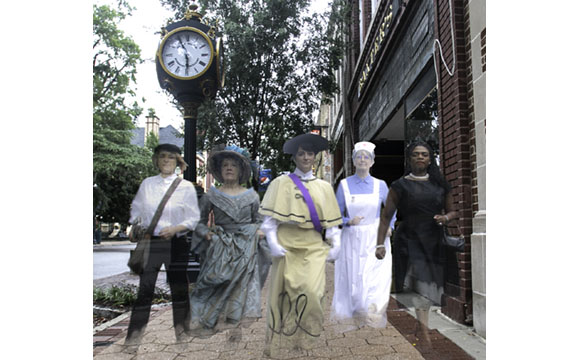 Spirited Skirts Headline the Apparitions
NEW BERN, NC – For the 29th year in a row, lively historic spirits and specters return to New Bern at the behest of the New Bern Historical Society.  Each Ghostwalk the Historical Society brings a whole new batch of characters from New Bern's colorful and varied past to tell you their stories right in the very places they might have been seen in life. Don't worry though, all these spirits are from history, not scary ones from science fiction. This year's theme is "Spirited Skirts and the Shadows they Cast".  Watch for intriguing women and the men in their lives.  So, as night falls in New Bern's Historic District October 24-26, keep an eye out for shades of the past.
There are 13 different ghost sites in historic homes, churches and businesses, and of course in Cedar Grove Cemetery where candlelit paths will lead to plenty of eerie entertainment! If you dare pass under the weeping gates you will meet the cemetery's famous grave diggers who will try to convince you to stay… forever. If you get past them, be on the lookout for the many ghostly characters whose lives shaped our city as they appear and disappear before your eyes.
Ghostwalk is a family friendly event offering entertaining stories from our history and tempting dinners available at historic churches.  Again, this year, at the historic Judge Gaston Law office, each Ghostwalk ticket holder can have their picture taken at the professional Tap Snap photo booth.  They will go home with a photo souvenir as well as a digital image.  There is no additional charge, this is part of the Ghostwalk ticket. Sponsoring Tap Snap is Cotten Funeral Home & Crematory.
New Bern's two historic theatres will open their doors again with special performances. Expect a lighthearted mystery-comedy, featuring the Dowd family at the Attmore-Oliver House.  Of course, the Veri-Good Bakery itself will appear with lots of delicious goodies. Historic churches will also be ready with more hearty fare such as chili, pasta, and sandwiches.
Hauntings begin Thursday, October 24, from 6:30 p.m. to 9:30 p.m. Expect ghost sightings at the cemetery and entertainment at both theatres and the Attmore-Oliver House.  An additional nine ghost sites and the photo booth are open Friday, October 25 and Saturday, October 26 from 5:30 p.m. to 9:30 p.m.
Tickets are $18 in advance and $23, the day of the event.  Special pricing for active duty military, their dependents and students, all with ID at $14. Children 3-12 are $5 and under 3 free. Tickets are available on-line at www.GhostwalkNewBern.com . Check the website for complete outlet information or call 252-638-8558. Title Sponsor, Chesnutt & Clemmons, P.A. Media Title Sponsor is WCTI News Channel 12.  Additional media sponsorship by, Public Radio East and New Bern Sun Journal.
The mission of the New Bern Historical Society is to celebrate and promote New Bern and its heritage through events and education.  Offices are located in the historic Attmore-Oliver House at 511 Broad Street in New Bern.  For more information, call 252-638-8558 or go www.NewBernHistorical.org or www.facebook.com/NewBernHistoricalSociety.
Submitted by: Kathy Morrison on behalf of Mickey Miller, New Bern Historical Society