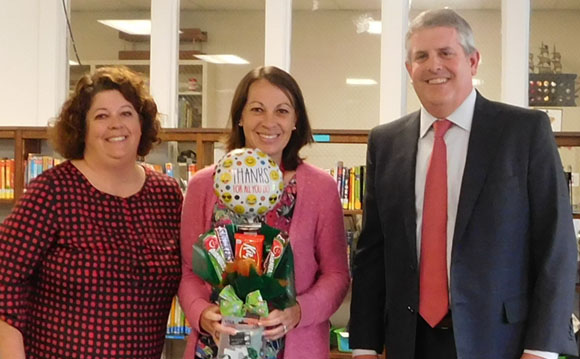 Edward Jones Financial Advisor Dan Roberts partnered with Partners In Education to award a $100 gift card to Liz Phillips teacher at A.H. Bangert Elementary.
Catherine Alligood, principal at A.H. Bangert Elementary, says, "All teachers take on a lot every day as they teach their students. There are content standards to teach and curriculums to learn. This teacher has gone above and beyond in her teaching assignment this year as she teaches TWO grades in her combination class.  Ms. Philipps is making learning meaningful for all of her students and showing what can be done in a combination classroom. Thank you, Ms. Philipps for the extra effort that you are giving this year and the difference that you are making for your students."
The Edward Jones Teacher Recognition Award demonstrates the company's commitment to positively changing the lives of students and families in our community. Pictured is Mr. Roberts presenting the gift card with a candy bouquet to Ms. Philipps with Ms. Alligood.
If you would like to learn how your organization can make a difference to a Craven County Schools teacher in the classroom, please contact Darlene Brown, Partners In Education, at 514-6321.
Submitted by: Darlene Brown, Craven County Partners In Education