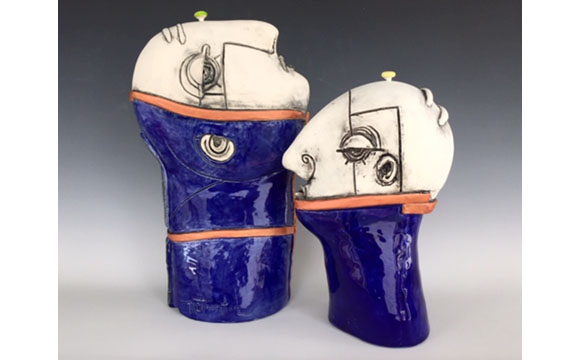 November 5 – November 30
Craven Arts Council & Gallery is proud to present the work of Catherine Thornton in the Director's Gallery for November 2019. A versatile painter and sculptor, Thornton's work has been featured in numerous exhibitions and publications across the United States. Craven Arts Council will host an opening reception during the downtown New Bern Artwalk, November 8th, from 5 p.m. to 8 p.m.
Catherine earned her BFA in Painting and Sculpture from Longwood College (currently Longwood University) in Farmville Virginia, while in her mid 30's, but she was not able to consistently pursue her art career for another fifteen years.  In those fifteen years, however, ideas, concepts, and techniques were explored, diligently filed away on several sketchpads, envelopes and dinner napkins and assigned to the future.  Her professional launch came about through a summer course at Penland School of Crafts and consequently being accepted into Artspace. Speaking about her work, Thornton says "For me, art, creativity is still an inscrutable mystery. It is like the wind.  It comes from somewhere we don't see and goes somewhere we couldn't anticipate.  Sometimes it's a welcomed breeze sometimes a purging storm.  After all the planning, scrutiny and analyses, why this piece will work and that piece will not is completely up in the air. I love the process- most of the time!"
All galleries at Bank of the Arts are free and open to public Tuesday through Saturday from 10 a.m. to 5 p.m.
For more information please contact Jonathan Burger, Marketing and Gallery Director, Craven Arts Council & Gallery, Inc. at the Bank of the Arts, 317 Middle St., New Bern, 252-638-2577
Submitted by: Jonathan Burger