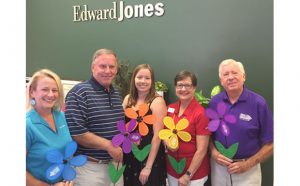 The New Bern Walk to End Alzheimer's enters its seventh year November 3rd again at the Galley Store and Marina East Front Street.  Hundreds of walkers have raised over $200,000 from their friends, relatives and business associates across the US to help the Alzheimer's Association raise awareness, fund research and patient care.  This year's committee, headed by Georgiana Bircher, has been planning the event for the past few months and is about to "paint the town purple" that Sunday afternoon beginning at 2PM.  Many events are happening weekly all over New Bern like "Paint it Forward for Alzheimer's", Sept 24th at Wine & Design, S. Glenburnie Rd, 6:30PM (register online wineanddesign.com).
Registration for walkers begins at 2 PM with sign up tables, refreshments,  corn hole boards, memory walls, "flower" garden recognition for friends and family members affected by the disease, then at 3PM the walk around the Front street and Middle street areas led by a high school marching band and police escort. At 3PM, the ceremony begins with music and songs presented by Tom's Tunes with Tom and Joanie Meutsch singing Glen Campbell's final song, "I Remember You", personal stories by persons affected by the disease and awards and recognitions to the teams.
Over five million Americans are living with Alzheimer's today. One in three seniors will die from Alzheimer's or another dementia. Almost a half million caregivers live in NC,  providing $7 billion in unpaid care. For more information about Alzheimer's, contact Amy Julian, 919 803 8285, ext 8338.
Submitted by: Bob Manning