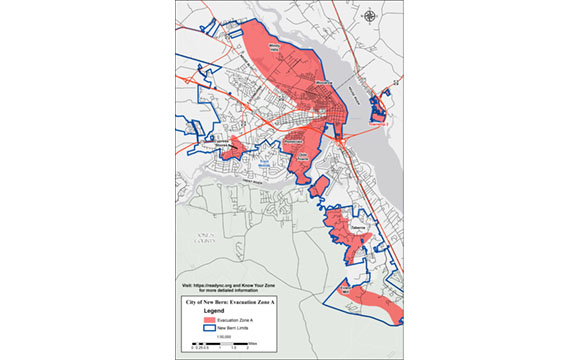 Four shelters opening in advance of hurricane Dorian
City officials have received word from Craven County leaders that a voluntary evacuation order has been issued for residents living in Zone A as of 2pm Wednesday, September 4th.  Four shelters are being opened to accommodate evacuees.
Craven County is participating in a pilot program called the NC Know Your Zone evacuation program, facilitated by the NC Department of Safety.  According to the County's website, NC Know Your Zone (KYZ) is a new tiered evacuation system that highlights areas most at risk to storm surge and flooding impacts from hurricanes, tropical storms, and other hazards. Know Your Zone relies on a color-coded approach for users to determine the evacuation zone where they live, work, or are visiting based upon their street address.  More information and a general map are located here.  The State's Ready NC website and app make it easy to plug in your address and instantly find which zone your home, business or property is located within.
A map detailing Zone A neighborhoods and communities within the City of New Bern is attached.
Four shelters are being opened at 4pm Wednesday, September 4th for residents who are voluntarily evacuating:
Creekside Elementary School, 2790 Landscape Drive, New Bern
Ben D. Quinn Elementary School, 4275 Doctor M.L.K. Jr. Blvd., New Bern (pet friendly)
Farm Life Elementary School, 2000 Farm Life Ave, Vanceboro
Havelock High School, 101 Webb Blvd, Havelock
Evacuees who need transportation to the shelters should call the Craven County Emergency Operations Center at (252) 636-6608.
As a reminder, the City of New Bern's Emergency Operations Center (EOC) on Highway 55 will mobilize at 8:00am Thursday, September 5th.  Today, staff continue to prepare city infrastructure and equipment in advance of the storm, including gathering storm survival supplies, topping off fuel tanks, ordering additional inventory, and communicating with employees and mutual aid teams who are staged and ready to help mitigate power outages, water and sewer emergencies and debris removal.
If you are a City of New Bern utility customer and you lose power, report it by using our website portal at www.NewBernNC.gov. From the homepage, click on "How Do I," then "Report a Problem," then "Report a Problem" (again), which will direct customers to a page where they can report power outages, water/sewer emergencies, and non-emergency issues.  Or, call us at (252)636-4070.  You do not need to speak to an operator. Leave a detailed message with your address, type of emergency, and contact info and an operator will call you back to ensure restoration.
Residents are strongly encouraged to subscribe to the City's emergency alert system, CodeRED.  It's free and alerts subscribers to emergencies within the community through text messaging, emails, or phone calls.  You can sign up on the city website or download the CodeRED app to your smartphone.
The City will post additional storm updates and information, as necessary, to its social media platforms.  Follow us on Twitter @CityofNewBern, Facebook at City of New Bern, NC Government, or Instagram at @CityofNewBern.
Submitted by: Colleen Roberts, Public Information Officer, City of New Bern