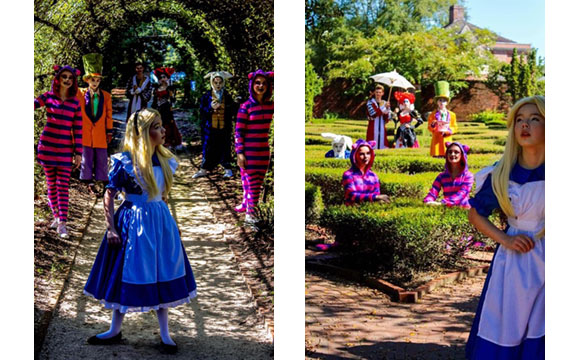 Rivertowne Players invites you to come down the rabbit hole with the fabulous cast of Disney's Alice in Wonderland Jr.!
Join Alice and her wonderlandiful friends on a journey through imagination in this musical adapted from Lewis Carroll's classic story. Alice's adventures become curiouser and curiouser as she follows the White Rabbit into a land full of strange characters like the bubble-blowing Caterpillar, a bunch of talking cards (including a somewhat dangerous Queen of Hearts), a Mad Hatter and the gregarious Tweedle Dee and Tweedle Dum! It's a fast-paced take on the classic tale…you might have to run faster than a Dodo Bird to keep up!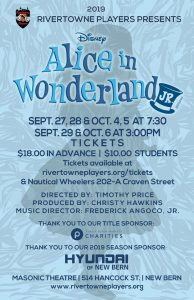 Alice in Wonderland shows for only two weekends, so get your tickets now. Showtimes are September 27, 28 and October 4, 5 at 7:30 p.m., September 29 and October 6 at 3 p.m. Tickets are available now at Nautical Wheelers on Craven Street or online at nbrivertowneplayers.org/tickets. Rivertowne Players is located in the historic Masonic Theatre at 514 Hancock Street in New Bern.
Submitted by: Michelle Garren Flye, Rivertowne Players