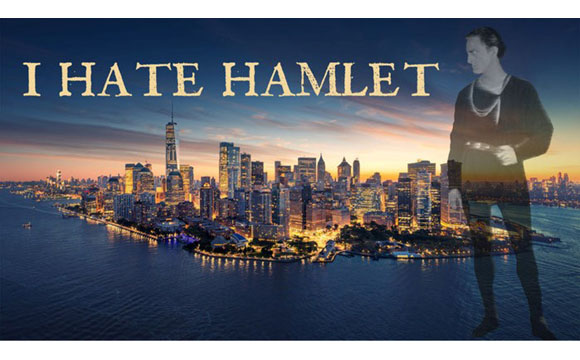 The New Bern Civic Theatre and The Law Offices of Oliver & Cheek present I Hate Hamlet on September 13, 14, 20, 21 at 7:30 p.m. and September 15 and 22 at 2:00 p.m.
Can you imagine getting acting lessons from the ghost of the late, great John Barrymore?
Join NBCT and find out!
Book by Paul Rudnick
Director: Austin Arrington, Producer: Lauren Taylor
Andrew Rally seems to have it all: celebrity and acclaim from his starring role in a hit television series; a rich, beautiful girlfriend; a glamorous, devoted agent; the perfect New York apartment; and the chance to play Hamlet in Central Park. But there is trouble in paradise when his TV series is cancelled, and Andrew really doesn't want to play Hamlet. When Andrew's agent visits him, she reminisces about her brief romance with John Barrymore many years ago, in Andrew's apartment. This prompts a sèance to summon his ghost. From the moment Barrymore returns, dressed in high Shakespearean garb, Andrew's life is no longer his own. Barrymore, fortified by champagne and ago, presses Andrew to accept the part and fulfill his actor's destiny. The laughs are nonstop as Andrew wrestles with his conscience, Barrymore, his sword, and the fact that he fails as Hamlet in Central Park.
Cast In Order of Appearance
Felicia Dantine ……………………………. Meredith McKee Boyd
Andrew Rally………………………………………… Peyton Jenkins
Deirdre McDavey ……………………………….. Jordan Daughety
Lillian Troy……………………………..Katherine Anderson Tuttle
John Barrymore ……………………………………… George Oliver
Gary Peter Lefkowitz…………………………………….Keith Boyd
Tickets: (NOT including Sales Tax or Online Service Fee)
Orchestra: Advance: $18, Door: $20, Students and Active Duty Military: $10,
Balcony: Advance: $17, Door: $19
Tickets can be purchased by calling the box office at 252-633-0567 or by ordering online at www.newberncivictheatre.org.
Submitted by: New Bern Civic Theatre