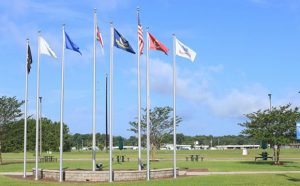 Craven Community College's (Craven CC) Collegiate Veterans Association will host a POW/MIA Recognition Day ceremony at the Veterans Memorial Park on the Havelock campus Thursday, Sept. 19 at 10 a.m. The guest speaker will be Holly Prafke, retired Sgt. Maj., who served in the United States Marine Corps for 31 years until July 2013.
The United States has nationally observed POW/MIA Recognition Day since 1979. It is a time for Americans across the country to pause in remembrance of the sacrifices and service of those who were prisoners of war (POW), as well as those who are missing in action (MIA) and their families. All military installations fly the National League of Families' POW/MIA flag, which symbolizes the nation's remembrance of those imprisoned while serving in conflicts and those who remain missing.
Mitch Martin, Craven CC military affairs resource center coordinator, has been instrumental in organizing this event. As a Marine Corps veteran who honorably served for 26.5 years, Martin believes that honor, courage and commitment are words that encompass Marines everywhere.
"Craven County and the surrounding area is home to many active duty and veteran personnel and their families," he said. "I believe it is our duty as an institution to make the time to remember the people who gave the ultimate sacrifice so we can continue to embrace the freedom that we so enjoy. This ceremony is also a show of support for the ongoing commitment that we, as a country, are making to bring home all personnel that are unaccounted for."
For more information, contact Martin at 252-444-6003 or martinmi@cravencc.edu.
Submitted by: Craig Ramey, Director of Communications, Craven Community College