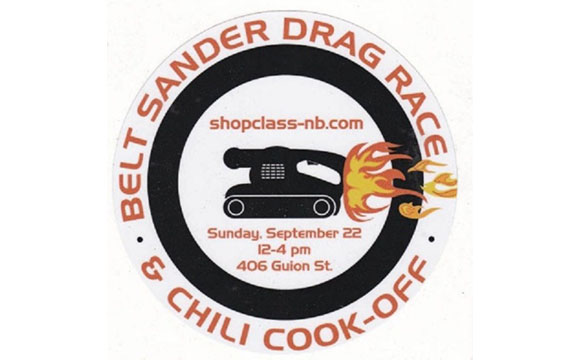 This event is a fundraiser for The Volt Center, New Bern's new workforce development training facility.  Admission will be $5 with all proceeds support training scholarships.
Sunday, September 22, 2019
12 – 4 PM
406 Guion Street, New Bern, NC
In the belt sander competition, there will be trophies in three divisions:
Stock
Modified
Best Decorated
Races will be conducted in accordance with the rules and regulations of the International Belt Sander Drag Race Association (IBDA).  For more information visit www.ShopClass-NB.com.
Trophies will be presented for the three best tasting chili entries as determined by our expert judges.
The first 50 people through the gate with either a belt sander or chili entry will receive a 2019 Belt Sander Drag Race Commemorative T-shirt.
Food and refreshments will be made available by Brewery 99 and Norm's Chop Shop.
Please join us for a day of fun, speed and heat with live music, food and beer.  Shop Class is a dog and family friendly establishment.
"The World's Most Abrasive Sport"
Submitted by: Maurice Howland, Shop Class, LLC