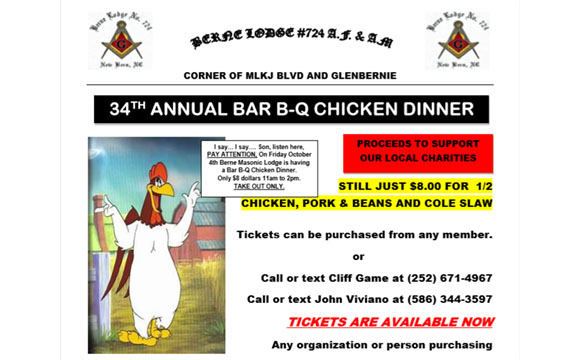 Join the Berne Lodge No. 724 A. F. & A. M. for our 34th Annual BBQ Chicken Dinner Fundraiser on Friday October 4, 2019 at the York Rite Temple located at 2100 South Glenburnie Road in New Bern
The Berne Lodge conducts two major fundraising events every year to help raise funds for and awareness of our Masonic charities in North Carolina.
Cost: $8.
Menu: Half of a BBQ Chicken, baked beans, cole slaw, dinner roll.  Beverage is not included. Meals are take-out only and they are delicious.
For more information, please see our event link on our Facebook page.
Submitted by: Aaron L. Clark, Berne Lodge 724