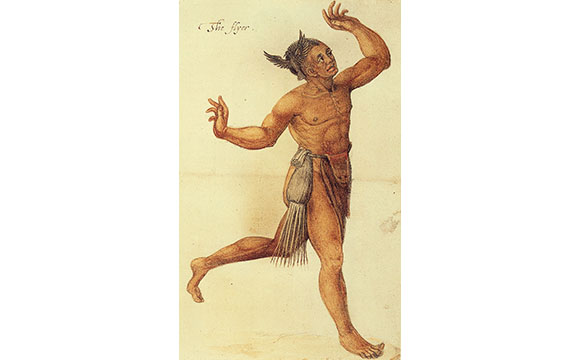 First Historical Society Lunch & Learn of the Year
NEW BERN, NC – The Neusiok?  Who were they?  Where were they?  The New Bern Historical Society will hold its first Lunch & Learn of the year on Sept. 11 at 11:30 am at the Chelsea when Stan Allen will explain.  The Neusiok were an ancient people who lived on the south side of the Neuse River in what is now Craven and Pamlico counties. Join us to find out who the Neusiok were, where they lived, what happened to them and who their descendants are.
Stan Allen has been researching the history of the contemporary Native American peoples of North Carolina for over forty years and is the author of ALL OUR PEOPLE: First Nations of Eastern North Carolina. Allen was born in and grew up in Fayetteville, NC, and spent time each summer with his grandparents in Oriental. From an early age he was fascinated by cultures of the world and particularly Native American culture. As a child he picked up numerous pottery shards on his grandparents' farm at Teach's Point and wondered about those ancient inhabitants. He graduated from N.C. State and was a navy medic with the Marines in Viet Nam.  He retired as a Children's Protective Services Social Worker, from Craven County DSS and in 1996 moved from Pamlico County to New Bern.
All are encouraged to make reservations early. New Bern Historical Society's First Vice President, Kathy Morrison "We are excited to have such an interesting presentation to kick off our 2019-20 Lunch & Learn season, and we expect it will continue to be a very popular event."
Lunch & Learn starts at 11:30 a.m. at The Chelsea Restaurant, 335 Middle Street, New Bern. The cost is $17 for Historical Society members and $22 for non-members; lunch is included.
Advance reservations must be made by calling the New Bern Historical Society at 252-638-8558, or can be ordered at NewBernHistorical.org/tickets. Lunch choices are: Pork Tenderloin with Blueberry Ginger Glaze, Garlic Smashed Potatoes, and Sauteed Green Beans; or Shrimp and Grits.
The mission of the New Bern Historical Society is to celebrate and promote New Bern and its heritage through events and education.  Offices are located in the historic Attmore-Oliver House at 511 Broad Street in New Bern.  For more information, call 252-638-8558 or go www.NewBernHistorical.org or www.facebook.com/NewBernHistoricalSociety.
Submitted by: Kathy Morrison on behalf of Mickey Miller, New Bern Historical Society