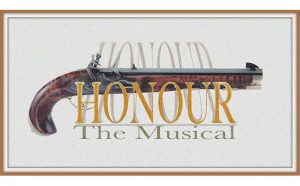 NEW BERN, NC – Bringing history to life through musical theater – what a concept!  The uniquely-New Bern production of Honour, The Musical will do just that, illustrating the iconic New Bern story of the Stanly-Spaight duel in a full-length musical theater production.  Written by New Bern author, historian, and journalist Bill Hand with music by musician, performer and author Simon Spalding, Honour preparations are well underway, with the production opening on January 23, 2020.
Title Sponsor CarolinaEast Health System leads the list of supporters.  Tim Ludwig, Vice President of Ancillary Services says "CarolinaEast is happy to support the arts in New Bern and specifically Honour, The Musical.  We try to be a good corporate citizen and assist in making New Bern a better place to live, and one thing that makes any community better is the arts.  We look forward to seeing Bill Hand's production on stage."
Historical Society Executive Director Mickey Miller is encouraged by the response: "We are so proud of the community leaders who immediately offered to support this hometown story told and performed by hometown talent.  This is a huge effort that requires a big production team.  We hope other business leaders will step up to help make this production the pride of New Bern."
The New Bern Historical Society is engaged as Executive Producer, with partner Craven Community College supplying Orringer Auditorium as the venue.  Title Media Sponsor the New Bern Sun Journal is assisting with marketing, with The Law Offices of Oliver & Cheek and Stubbs & Perdue, P.A. as Silver Sponsors.
There is still time for you or your business to join the team of sponsors and supporters of this exciting event.  Go to HonourTheMusical.com where you'll find information and a link to sponsor or to donate.  You can also phone the New Bern Historical Society at 252-638-8558.  January will bring the thrill of an exciting premiere – about New Bern, by New Bern and in New Bern!
You can also lend a hand by attending and enjoying a Benefit Dinner in support of Honour, The Musical on August 12 at 6pm at the O. Marks Building at 233 Middle Street. Entertainment will be by Bill Hand as Mark Twain.  Tickets are $50 per person will all proceeds going to support the production.  Tickets are available at HonourTheMusical.com or at the New Bern Historical Society at 252-638-8558.
The mission of the New Bern Historical Society is to celebrate and promote New Bern and its heritage through events and education.  Offices are located in the historic Attmore-Oliver House at 511 Broad Street in New Bern.  For more information, call 252-638-8558 or go NewBernHistorical.org or Facebook.com/NewBernHistoricalSociety.
Submitted by: Kathy Morrison on behalf of Mickey Miller, Executive Director of the New Bern Historical Society