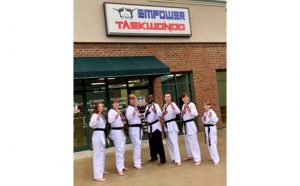 Empower Taekwondo is excited to announce its Grand Opening taking place Saturday, August 10. Master Hama Alzouma invites all those interested to stop by between 1:00 p.m. and 5:00 p.m. at the facility at 610 Airport Road in James City.
Parents and children can speak to current students and instructors to learn more about the art of taekwondo and watch demo teams from across the state of North Carolina—all while enjoying free hot dogs, chips, and beverages.
As a special offer, guests attending the Open House will receive a voucher for half-price admission to Jungle Jump which is next door to Empower Taekwondo.
For more information, call 252-649-8452.
Submitted by: Master Hama Alzouma, Empower Taekwondo