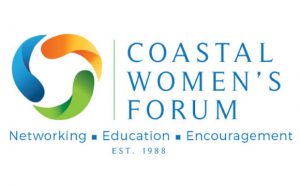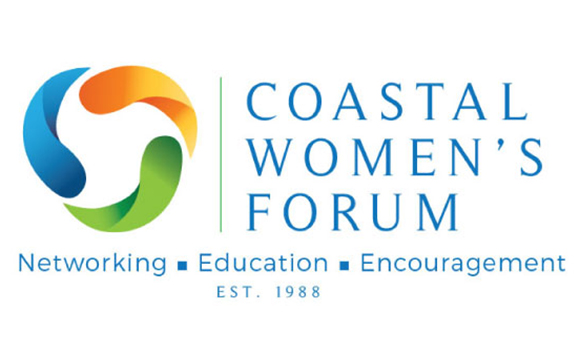 Coastal Women's Forum's (CWF) Has a New President and a New Theme for     2019-2020
Lee McDonough didn't pull "Building Bridges" as the theme for her year as CWF President out of thin air. It was born from her education, life experiences, and desire to reach out to others.
"I believe that when we are open to all people and all experiences, and when we approach them with curiosity, openness, and respect, everyone becomes stronger," Lee explained. "We can make connections and build bridges across chasms that may have once seemed impossible to bridge." Although we seem to be deeply divided by extremist rhetoric, paranoia, and discontent from every direction, Lee's vision is no Pollyanna's pipe dream, because we are united by compassion, caring, and community.
Pathways Leading to Bridges
Lee is a self-described, "Devoted Tarheel." Following her graduation from UNC at Chapel Hill, she earned joint master's degrees in social work and public health. Her career focused was on serving people one on one. Lee worked in hospitals, in outpatient and inpatient psychiatric units, the Department of Veterans Affairs, and hospice. After acquiring her license in clinical social work, Lee became a full-time therapist.
When Lee's husband, Patrick, who served in the Air Force, was stationed in Germany, she practiced as a therapist before becoming chief liaison between base leadership and all helping agencies on base. Lee helped coordinate services to ensure that the needs of everyone who lived and worked on base were met.
Lee and her family spent four years in Germany and were able to travel extensively to two dozen countries. She believes the opportunity for her family to experience a multitude of cultures, cuisines, and traditions broadened their world view, making them more open and willing to think beyond the familiar.
Building Bridges in New Bern
Upon the McDonough family's return to the U.S., Patrick left the Air Force and purchased a periodontal practice in New Bern. He had practiced periodontics full-time while in the Air Force since 2003 and had done some moonlighting in New Bern before the move to Germany. Since the McDonough's already had New Bern connections, deciding where to live and work was the easy part.
Lee took time off to help her family transition to life in New Bern, but soon realized she missed her professional identity. Lee also realized she wanted to do something different. As Lee watched Patrick go through the process of running his business, it occurred to her that small business owners needed a special kind of support. Lee discovered coaching and completed a training course. She then started her own business, Caravel Coaching. She works with service-based entrepreneurs. "I offer them mindset coaching as well as strategic support, so they can grow their businesses and lead lives that they love."
Much of Lee's work was done online, and she decided she needed more personal and meaningful connections with women in the community. That was how Lee came to discover CWF. "I went to my first meeting not knowing anyone," Lee recalled, "and by the time I left, I felt like I knew everyone." She found CWF to be a warm and welcoming environment and kept coming back. Before long, Lee was invited to serve on the Board as treasurer. She then became Vice President.
As President, Lee is clear as to what she wants to accomplish. "I really want this year to be about how our organization can reach out to other people, other communities, and create new partnerships and invite new women in," she said. No doubt, CWF is poised to grow and flourish under Lee's leadership.
Upcoming CWF Event
Wednesday, August 21: First Daytime Meeting for 2019-2020 at the New Bern Golf and Country Club, 11:30am to 1:00pm.
To learn more about what Coastal Women's Forum has to offer, or to register online, visit CoastalWomensForum.com.
By Contributing Author: Penny Zibula, Six Legs Will Travel