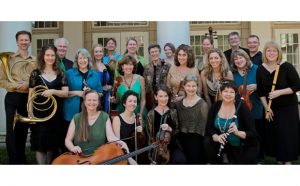 Craven Community College's Lifetime Learning Center is pleased to host the North Carolina Baroque Orchestra, directed by Frances Blaker. On Friday, August 9 at 7:30 p.m. the orchestra will present The Enchanted Baroque, featuring the music of Vivaldi, Telemann, Rameau and others. The concert takes place at Orringer Auditorium on the New Bern Campus.
This concert follows the Orchestra's third annual summer retreat in eastern North Carolina. During the week-long retreat the orchestra works with director Frances Blaker to refine their skills as specialists in baroque performance practice. The retreat has become so popular that this year there are 30 musicians participating, allowing for an exciting and varied concert program which includes a Vivaldi concerto for 4 violins, a viola concerto by Graupner and several pieces featuring baroque horns, flutes and oboes. The NCBO Oboe Band and Flute Quartet will provide entrance music as audience members arrive at the concerts.
The North Carolina Baroque Orchestra was founded by sisters and musical collaborators Frances Blaker and Barbara Blaker Krumdieck in 2011, for the purpose of providing opportunities for musicians and vocalists interested in exploring baroque performance practice in a baroque chamber orchestra setting. The orchestra allows musicians in North Carolina and the surrounding area an opportunity to work with highly experienced experts in the field.
Tickets for the concert are $16 for adults, $14 for military/seniors and $10 for students. The Lifetime Learning Center is your source for tickets at CravenCC.edu/LLC and by telephone at 252-633.2618.
Submitted by: Jennifer L. Baer, Director of Lifetime Learning Center and Community Outreach, Craven Community College