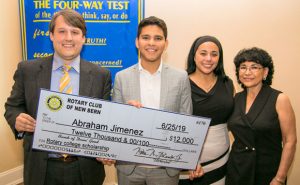 "I want to focus my studies on being a heart surgeon to preserve and save the lives of my patients and travel to minority places where care is not affordable…and provide that help at no cost".  These are the ambitious wishes of this year's Rotary Club of New Bern recipient of a four year scholarship, Abraham Jimenez, senior at New Bern High School.  Jimenez will enter NC State this fall and then plans to apply to Harvard Medical School for his advanced degree.
He and his mother, Palmira Kelly and grandmother Palmira Vargas Daza were present as Club President Dave Baxter made the presentation at the Installation Banquet held recently at the New Bern Country Club. The scholarship is funded by the club's Scholarship Foundation from contributions from the club's members. This will be the 51st year that the Rotary Club of New Bern has presented scholarships to qualified graduates of several area high schools. Jimenez will receive 25% of the award for each college year up to four years.
The Rotary Club of New Bern will celebrate its 100th birthday in October. Meetings are held Tuesday at 1 PM at the Chelsea Restaurant.
Submitted by: Bob Manning, Rotary Club of New Bern