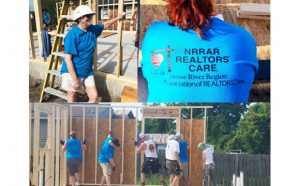 The Neuse River Region Association of Realtors® recently volunteered to help build home #69 for Habitat for Humanity of Craven County. Century 21 Zaytoun-Raines' very own Janet Lamb was among the volunteers for the 3-day project.
Since 1989 Habitat has worked with families to help them achieve financial stability and self-reliance to build a better life for themselves and their families. Their vision is a world where everyone has a place to live.
It is Century 21 Zaytoun-Raines mission to be a leader in sustaining the stability our community and our agents make every effort to do that every day.
Submitted by: Selena W. Holt, Marketing Coordinator and Licensed NC Real Estate Broker, Century 21 Zaytoun-Raines