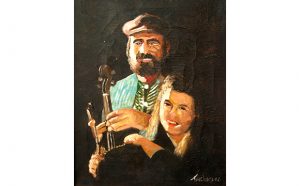 Folk duo Tuppence, comprised of Sara and Simon Spalding, will present a rare concert in the Fellowship Hall of Riverside United Methodist Church, Sunday afternoon July 14.
Tuppence performs folk music of the Old World and the New – traditional ballads and dance tunes from Ireland, Scotland; contemporary folk songs; Americana material; and more.  Between them, Sara and Simon play fiddle, guitar, bodhran, and octave mandolin.
Riverside United Methodist Church is at 405 Avenue "A" in New Bern.  The doors will open around 2:30, and the music starts at 3:00.  There is no admission charge for the concert, but donations to Riverside United Methodist Church will be accepted.
This is sure to be a concert to remember!  For information, call 252-631-4117.
Submitted by: Simon Spalding
Simon and Sara Spalding (oil painting by Willie Taglieri)