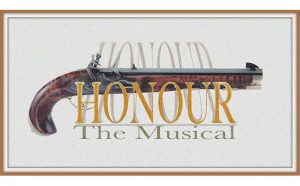 HONOUR, the Musical is a presentation with scripts and lyrics by local historian and professional writer Bill Hand with music composed by local musician/historian and well-known local performer, Simon Spalding. It, first, tells the story of the 1802 duel between Richard Dobbs Spaight and John Stanly and, second, that of one of Spaight's slaves, Sarah Rice, who was the mother of a child through John Stanly himself and who, one day, would gain her freedom and become an important part of New Bern history. The play also examines the anomaly of "Barber John" Stanly, a former slave who became the largest slave owner in the county.
Date: Wednesday, July 10th from 6 p.m. – 9 p.m. and Saturday, July 13th from 10 a.m. – 4 p.m.
Location: Craven Community College – Orringer Auditorium, 800 College Ct., in New Bern.
Reading: one-minute monologue of your choice (demonstrates your memorization) cold reading from the play.
Prepare to sing: "Jefferson & Liberty" (only lines below)
The gloomy night before us flies,
The reign of terror now is o'er;
No gags, inquisitors and spies,
The hordes of harpies are no more
Rejoice, Columbia's sons, rejoice
To tyrants never bend the knee
Join with heart, and soul and voice
For Jefferson and Liberty.
No lordlings here with gorging jaws
Shall wring from industry its food;
No bigot's with their holy laws,
Lay waste our fields and farms in blood.
Song on YouTube: https://www.youtube.com/watch?v=pa9C-P2tMmk OR https://www.youtube.com/watch?v=EkXLQ_ZNnN8
AND If you would like…you may ALSO sing a few bars of a song of your choice that demonstrates your vocal range.
(PERFORMANCE DATES: Jan 23, 24, 25, 26, 31 and Feb 1, 2 of 2020)
For continued updated information, please 'LIKE' on Facebook: https://www.facebook.com/Honourthemusical.
Submitted by: Nancy Hitchcock, Producer of HONOUR, The Musical