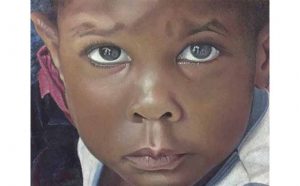 New Exhibition centered on Colombian portraits and narratives
July 3 – 31, 2019
Craven Arts Council & Gallery is proud to present Faces of Colombia by Donna Slade in the Main Gallery at Bank of the Arts for the month of July. This exhibition was inspired by Slade's trip to Colombia in 2017 and the people she met and worked with towards peace. Craven Arts Council & Gallery will hold an opening reception for the exhibition during the downtown New Bern ArtWalk on July 12 from 5 p.m. to 8 p.m.
Traveling to Colombia as a part of a peace delegation in 2017, Donna Slade heard and recorded personal accounts by citizens of forced displacement, killings, child recruitment, landmine explosions, and other atrocities committed in the armed conflict between the Colombian government and the Revolutionary Armed Forces of Colombia. Her time there inspired the Faces of Colombia exhibition, twenty highly detailed colored pencil portraits of the people and accompanying narratives provided by anthropology PHD candidate Chelsey Dyer. Subjects include Afro-Colombian and indigenous communities of Cali, Buenaventura, and Bogota. Slade states the goal of the exhibition is to "encourage the recognition of the interconnedectness of struggles for racial justice across the globe."
Donna Slade is an award-winning professional artist who has been published The Best of Colored Pencil Society of America Signature Showcase, Colored Pencil Treasures Colored Pencil Masterworks Around the Globe, and The Best of American Pastel Artists & Artisans. She is a signature member of the Colored Pencil Society of America, a member of the International Guild of Realism, and past president of the North Carolina Pastel Society.
Admission to all galleries at Bank of the Arts is free and open to the public Tuesday thru Saturday from 10 a.m. to 5 p.m.
For more information please contact Jonathan Burger, Marketing and Gallery Director, Craven Arts Council & Gallery, Inc. at the Bank of the Arts, 317 Middle St., New Bern, 252-638-2577
Submitted by: Jonathan Burger