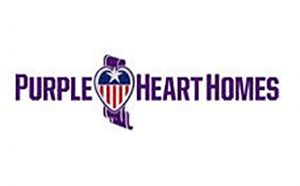 Partnership focused on providing important renovations to ensure the North Carolina Veterans' ability to age in place in the safety and comfort of their own homes
Statesville, NC – Purple Heart Homes (PHH) (phhusa.org) is pleased to announce its' partnership with Habitat for Humanity Craven County, NC (cravencountyhabitat.org), to accomplish two projects in North Carolina.
The first, which was started on April 23 and will likely continue into the week of April 28, will serve Veteran Akilah Sanders. Ms. Sanders served in the US Army from 2006-2009, during which time she was deployed to Iraq. She suffers from PTSD, TBI, back and knee issues. This large renovation will include replacing existing windows, building an access ramp, painting the home's exterior, tearing down a lean-to shed, replacing a kitchen light, and replacing existing storm doors.
The second project, which will occur in May, will focus on replacing a vapor barrier and insulation under Veteran Shelly Kies' home, who served in the United States Marine Corps as a CH53 helicopter mechanic. Ms. Kies injured her back and knee in training, requiring surgeries for both. She has also developed severe allergic reactions to mold, which is in her home and which these renovations will address. Ms. Kies now works at the Naval Medical Center at Camp Lajeune in Jacksonville, NC and is the 2019 Logistics Lead for Relay for Life for Onslow County in North Carolina, an organization that is raising money for patients living with cancer.
David Johnson, Habitat for Humanity Craven County's repair site supervisor, will be on site and leading the team for these projects. The labor for these projects will be provided by volunteers from the Craven County community. Single Marines will also be supporting both of these projects; Ms. Sanders will receive assistance from MCAS Cherry Point and Ms. Kies' project will have Marines from Camp Lejuene. In addition, the Junk Truck (ncjunk.com/, which specializes in hauling away materials and debris, will be assisting at the Akilah Sanders project.
John Gallina, CEO and Co-Founder of Purple Heart Homes, is honored to have Habitat for Humanity Craven County as its partner in these important projects. "All of us at Purple Heart Homes are proud to collaborate with Habitat for Humanity in our home state to help these Service Connected Disabled Veterans," said Gallina. "We are also grateful to the Craven County volunteers and the Marines, all of whom are providing their generous help, time, and support to ensure completion of these projects." Betsy McDonald, Homeowner Services Coordinator with Habitat for Humanity of Craven County, agrees. "Habit for Humanity Craven County is proud to partner with Purple Heart Homes to serve families who have sacrificed so much for our country," she said. "We are eager and excited to grow our partnership with Purple Heart Homes to serve more veterans in our community."
About Purple Heart Homes
Purple Heart Homes is a 501(c)3 nonprofit organization founded by Dale Beatty and John Gallina, two Iraq combat-wounded veterans on a mission to provide housing solutions for Service Connected Disabled and Aging Veterans that are substantial in function, design and quality. Purple Heart Homes has two programs: Veterans Aging in Place (VAIP), which encompasses the Operation Veterans Home Renovation Project (OVHR), and The Veterans Home Ownership Program (VHOP). From building a ramp for wheelchair-bound veterans to providing home ownership opportunities to veterans with physical as well as invisible injuries, Purple Heart Homes' programs are designed out of necessity and fit the specific needs of veterans of all ages and from all eras, helping them to live and age in place, in their own safe, accessible and sustainable homes. For more information, visit phhusa.org. Purple Heart Homes – Improving Veterans' Lives One Home at a Time.
About Habitat for Humanity of Craven County
Habitat for Humanity of Craven County partners with families to build or improve a place they can call home. Traditionally, Habitat for Humanity of Craven County has focused on building new homes with partner families. In 2018, Habitat for Humanity of Craven County established the Neighborhood Revitalization program to meet the needs of Craven and surrounding counties. The mission of Neighborhood Revitalization is to empower every resident to take pride in their neighborhood and community by improving the quality of each home. Improvements range from exterior cosmetic enhancements and home accessibility to larger interior repairs. Habitat for Humanity of Craven County is proud to partner with Purple Heart Homes to assist veterans in our community.
Submitted by: Betsy McDonald, Homeowner Services Coordinator, Habitat for Humanity Craven County